Interior Design Masters: Week 1 Review
3754

Views
Posted on:
08/15/2019
 If like us you love all things Interior Design then you will be pleased to know a brand new interior programme has just started for us all to enjoy! Interior Design Masters hit our TV screens last night on BBC2 and it did not disappoint. The new reality show saw a group of ten aspiring interior designers begin their journey in a bid to win an impressive contract designing a bar for one of London's top hotels. Do you too have the interior bug like us and want to redesign your whole home after only one episode? But which style would you go for? The challenge saw two teams overhaul a four-bedroom executive new build show home with each contestant having their own room to work on. Although the designers had full control over the way they wanted their specific room to look they had to work as a team to make sure the whole house looked cohesive and worked as one. There were so many trends highlighted in yesterday's show, that if brave enough you could consider for your own home. From banana leaf wallpaper to black bedrooms, it was clear the contestants weren't afraid of using bold colour palettes.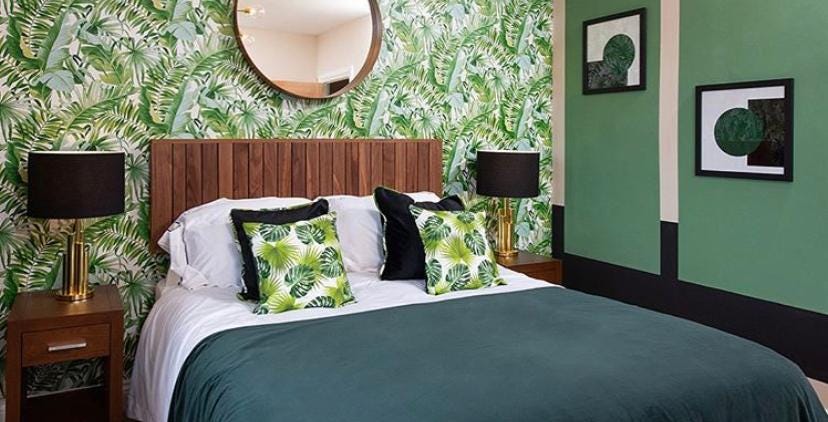 Image Credit: Terian Tilston Design - BBC 2 
It was a great mix of contestants, that differed in age, style and interior taste. Let's find out a little bit more about the contestants and see who's journey we will be following for the next upcoming weeks.
Meet The 10 Aspiring Interior Designers
Terian Tilston
The Fife based designer certainly made an impact in yesterdays show with her colourful banana leaf wallpaper and green bedroom. The colours were bold, bright and cheerful, and were perfect for a contemporary show home design.
Terian's interest in design came from a very early age and although she pursued a career in Law, she has now found her way back to interior design with her own soft furnishing business.
We loved Terian's passion and clear love for interior design and we can't wait to see what she does next.
Ju DePaula
Probably one of the most colourful and creative designers, Ju DePaula certainly made an impact with her bright and colourful design choices. From growing up in Brazil Ju plans to bring her love for colour and vibrancy through her interior design and make spaces that evoke joy and happiness.
Describing her own style as a touch of "Alice in Wonderland" there's no doubt that Ju will bring a large dose of positivity to each episode with her bright and airy designs. Her previous experience as an Interior Consultant will certainly prove advantageous throughout the competition.
 Kyle Broughton-Frew
Fellow brummie Kyle certainly brought a touch of glam to yesterday's episode with his stunningly luxurious living room décor. The colour scheme was bang on trend and is definitely a design you would expect to see in a show home.
From studying Architecture at Birmingham City University, Kyle's love for interior design blossomed and he now works full time as an interior designer for Birmingham's renowned Harper Harlow. We can't wait to see how far his experiences gets him in the show.
Verity Coleman
Currently working as an interior designer under the design studio Rascal and Roses, Verity has built up an impressive portfolio with her interior design work on commercial properties throughout England. She is a massive fan of adding bright colours to an interior space, particularly pinks and turquoise.  
Her design yesterday of the teen's bedroom was colourful, bright and aspirational for any youngster.
Frank Newbold
Frank certainly bought a lot of personality in yesterday's episode and we have no doubt he will be good to watch throughout the process. Despite being the youngest contestant, he certainly didn't let those with more experience stop him.
He has always had an interest in design with a background in visual merchandising. His style is inspired from the gorgeous countryside and the gold and green tones often associated with nature.   
Trish Coggans
Trish was on of our favourites from yesterday's episode. Her love for interior design shone through, as she described the great feeling she gets from designing a space for a client. Trish's room design was elegant and beautiful and included the popular duck egg blue tone.
In 2016 she founded Outshine Interiors and has been working on clients projects ever since. We can't wait to see all of the beautiful rooms she creates throughout the series.
Jim Biddulph
Skip to the next contestant if you want to avoid any spoilers! Jim was unfortunately the first person to leave the competition and we were gutted to see him go. His maximalist design was bold, daring and extremely colourful. We loved it! The wall feature he created was extremely inventive.
Despite his strong efforts head judge Michelle Ogundehein felt he didn't meet the brief of designing a room worthy of a show home. Such a shame to see him go but we are certain he will still have a budding career in design.
Cassie Nicholas
Cassie created the most stunning study in yesterday's challenge, showcasing rich blues and golds in this contemporary, regal space. We loved it! As an antique dealer by trade Cassie will certainly bring a different touch to the competition as she plays on her love for traditional Victorian style interiors.
After an impressive first week we are looking forward to seeing what Cassie does next.
Jerome Gardener
After a difficult first week, Jerome was described more of an interior shopper that designer. Having said that we thought the kids bedroom he designed was gorgeous, we thought the use of pink made the space feel somewhat enchanting and whimsical.
His favourite interior trend is bohemian and he describes his style as experimental and classy. We are looking forward to seeing Jerome's journey and what he can do.
     10. Nicki Bamford-Bowes
Nicki went for a bold and daring design as she opted for a black bedroom that was atmospheric, moody and showstopping. Michelle Ogundehein stated it was a room that you would either love or loathe. We thought it was courageous and very stylish. Although admittedly it might have been a little too far away from the brief.
Nicki's skill and expertise is extensive after working in interior design for over 15 years. With an already big following on social media we are looking forward to seeing what design tricks Nicki has up her sleeves.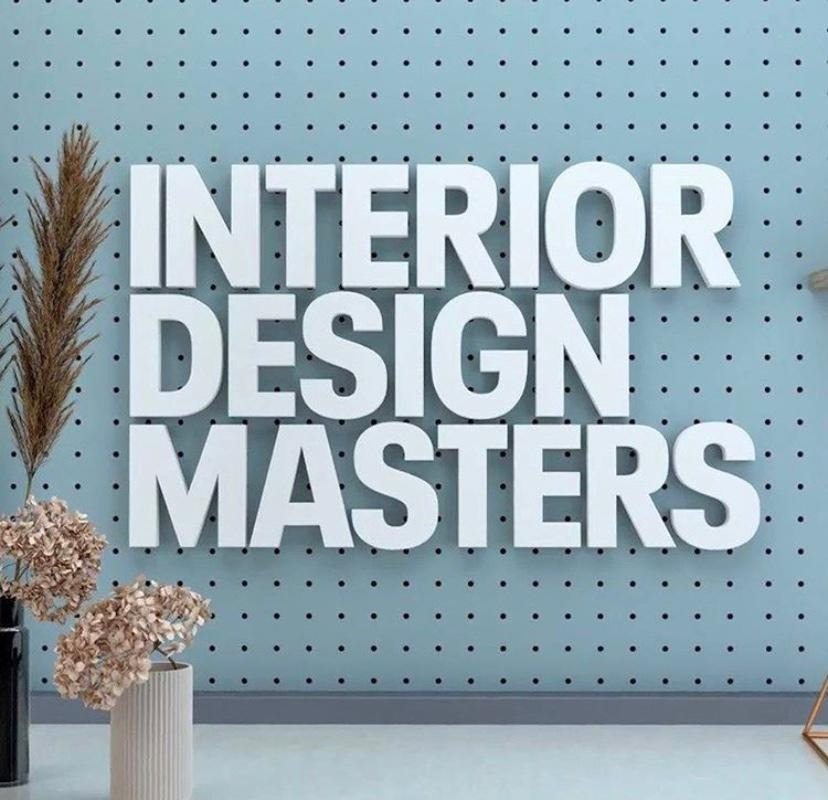 Image Credit: BBC 2 Interior Design Masters
All ten of the contestants showcased their huge array of talent and skill in yesterday's episode. We are so looking forward to watching their journeys and getting as much interior design inspiration as we can over the next few weeks. There's no doubt that if you are a lover of interior design that you will find the programme an enjoyable watch, as it is both inspiring and aspirational. Yesterday we learnt that the key to show home design was to take buyers on a journey. A generic space that all will love but that is still striking. The designers highlighted so many ways in which you could style the rooms in your home. From DIY wall panelling to impressive wall features there's nothing stopping you having a little fun on your next interior project. We can't wait to see what challenges they work on next, be sure to keep watching and let us know your favourite contestants as the weeks progress.
If you are looking for further inspiration for your next project check out our Expert Opinion section our blog for some helpful design tips to suit a range of styles.