Can you get skirting board covers
1272

Views
Posted on:
04/01/2019
The simple answer is YES! Skirting 4 U are the pioneers of skirting board covers in the UK, offering skirting board covers in a huge range of styles.
A skirting board cover is a skirting board that has been 'hollowed out' at the back, so that it fits seamlessly over your existing skirting board. This type of product has increased in popularity dramatically over the past few years, as people search for something that will allow them to update their skirting boards without having to remove their existing ones and potentially damage their plaster or walls in the process.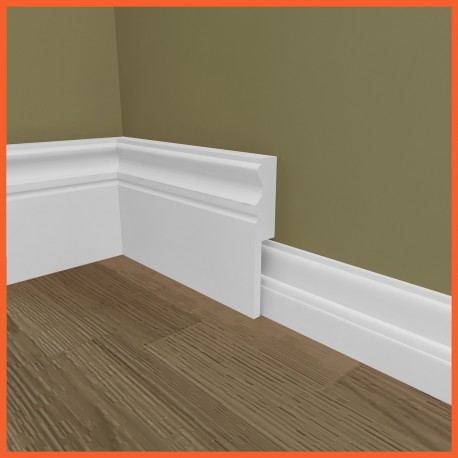 Skirting board covers are also sometimes referred to as 'over skirting', or 'skirting over skirting'. All of these terms relate to the same product, so bear this in mind if you are searching for more information- all three product names can and are used interchangeably.
Advantages of Skirting Board Covers
One of the real advantages of using skirting covers is how easy they are to install. We have produced a detailed guide about how to fit skirting board covers highlighting how easy the process is.
Because our skirting board covers are sold in a standard overall thickness of 25mm, they will sometimes be thicker than the architrave you already have, because the standard thickness of architrave tends to be 18mm. If this is the case, you can make everything look aesthetically correct by installing a plinth block to mask the transition between skirting board and architrave. Alternatively, the skirting board cover can be tapered so that it meets the architrave flush, but since one of the primary advantages of skirting board covers is the ease of installation, this option might be a little to difficult to achieve properly for the average DIYer.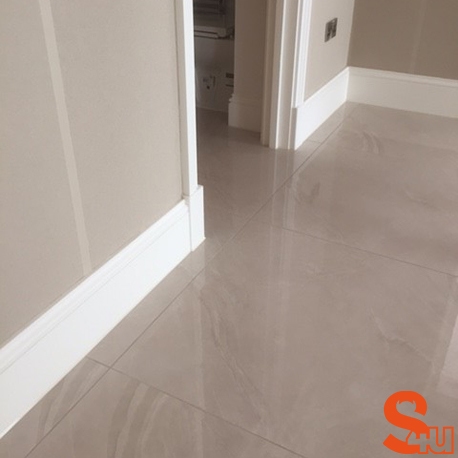 Customer Photo Featuring: Ogee Skirting Board 
Since launching the product, we have found that there is a real demand for skirting board covers from people who have concrete or tile skirting boards installed currently, that are either very difficult or impossible to remove. Skirting board covers are a great way to hide those existing skirting boards and update the look and feel of the room in the process. If you have concrete skirting boards in your home and are struggling to remove them or update them then a skirting board cover is a great product to consider. Discover more about skirting board covers and find out how convenient they really are.
Installing Skirting Board Covers
If you are considering installing skirting board covers and would like more information, please don't hesitate to get in touch with our sales team who will be able to answer any questions you may have about the products we offer in this range. Explore the full range of skirting board covers on offer and transform your tired looking skirting.
About the Author
Kieron Miller is the Managing Director of Skirting 4 U and has been working in the skirting board and online retail industry since 2012. Kieron has been using his extensive product knowledge and problem-solving experience to help both trade and private consumers all over the country find the perfect skirting board products for their projects. He continues to innovate new solutions and product ideas as the market continues to grow.