Coloured Skirting Boards - Improve your home by using colour on skirting boards and architrave.
17519

Views
Posted on:
02/06/2020
White skirting boards and architrave are timeless, but increasingly people are looking to make a statement in their home with coloured skirting boards. 
Skirting Board Colour Ideas
When it comes to choosing skirting board colours, you first need to consider what overall look you are going for, and how you want the room to feel. There are four main design options to choose from when deciding on coloured skirting boards.
Dark Skirting Boards on Light Painted Walls
Dark skirting boards and architrave is a more modern trend but can work really well as part of a more traditional scheme as well. By introducing a contrasting colour for the trim in your home, you can create the illusion of space in 2 ways:
       The darker moulding gives definition to the space which the eye is naturally drawn to follow throughout the room- elongating the space.
       Framing expanses of lighter shades on the walls with dark moulding can make them seem larger than they really are. The room appears lighter and more spacious as a result of using this technique.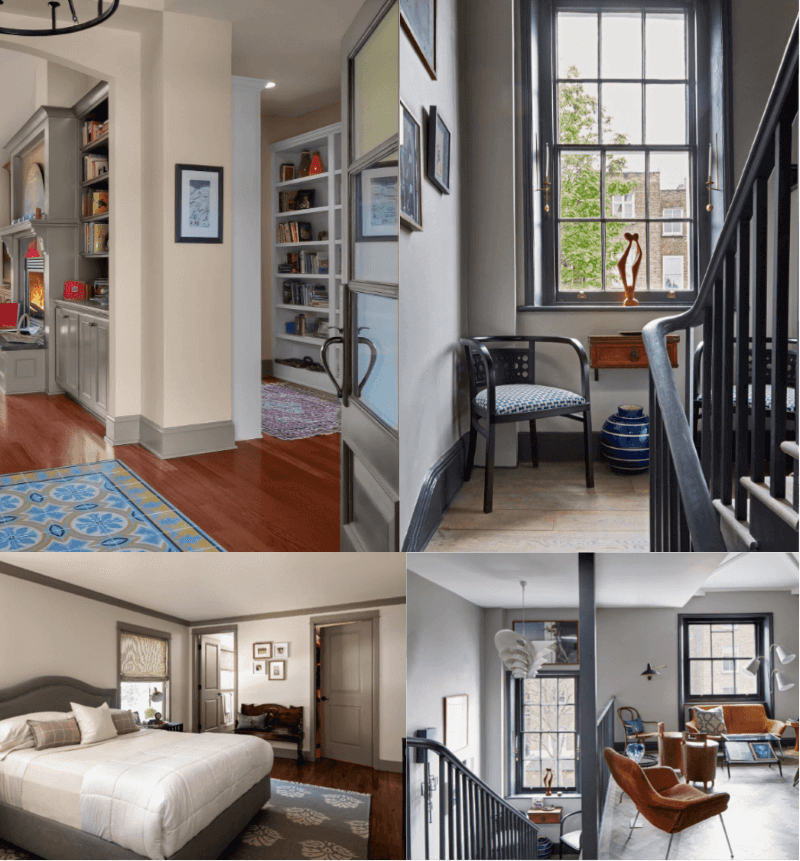 Dark skirting boards can really help to frame a room and provide a nice contrast on light coloured walls.
If you want a look that is both classic and sophisticated, then a dark trim can really help you add some drama and character to your space. Although this option is quite bold it is extremely stylish and can add a real ambience to a space. When renovating a traditional property, you shouldn't be afraid to opt for a darker colour scheme as larger spaces can take bold hues well.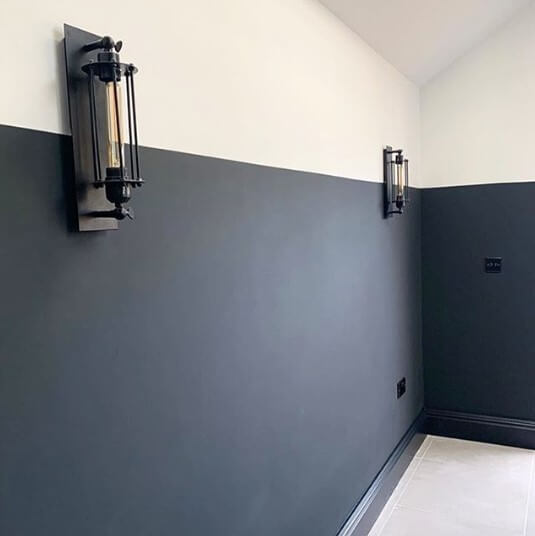 Photo Credit: alittlevictorianrenovation
Dark skirting boards will also reduce the impact that scuffs and residual dust have on your home. Marks of this kind are much more visible on a brilliant white skirting board than they will be on a dark grey or brown one, which will decrease the amount of time you need to spend cleaning and improve the longevity of the moulding.
Paint Skirting Boards the Same Colour as the Walls
Using the same colour for the walls and interior moulding is very poplar right now. Although this style goes back to the Georgian era, it has made a very strong comeback and is becoming more and more widespread in contemporary interior design. Abigail Ahern, a celebrated interior design 'tastemaker' is widely credited for the boom in popularity of this style of decorating.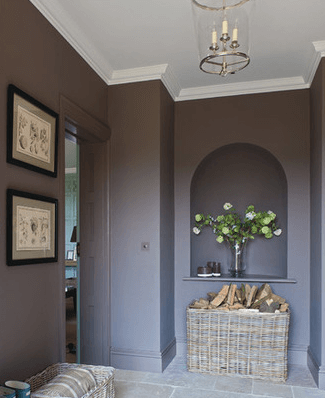 painting the skirting boards the same colour as the walls allows you to see the wicker wood bin as a focal point without being drawn to the floor
Painting skirting, architrave, and your walls all in the same shade is particularly effective in smaller spaces, as the lack of a clearly defined border helps to open up the space. With no harsh contrasts to draw the eye away, it can be a very calming quality particularly if pastel colours are used.
When using a statement colour, this technique can be used so as not to dilute the impact of colour where bold colours are used as a feature.
Karen Knox has used this technique to great effect- particularly with darker colours. We have included a couple of examples of her work below and you can find out more over at her interior design blog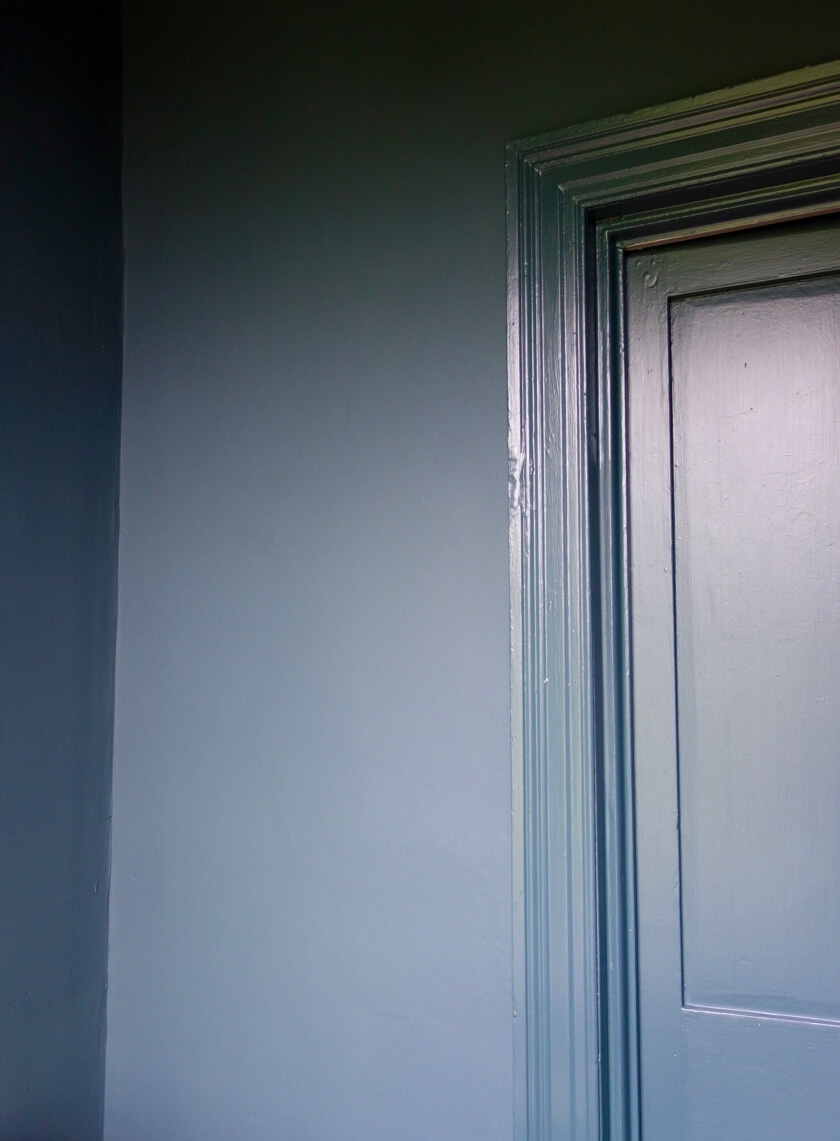 Using the same blue on the walls and moulding helps to create texture, whilst diminishing the visual impact that would come from using white paint.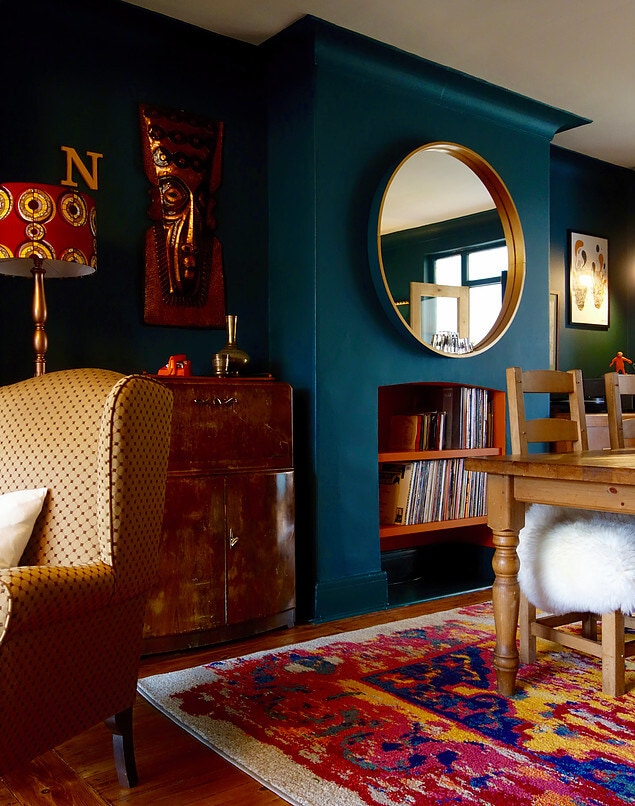 In this example, painting the trim the same colour as the walls helps the wall fade into the background and have a calming impact, whilst also allowing the eye to be drawn to the colouful rug as a focal point in this room.
Use Different Shades Of The Same Colour
Painting skirting boards and architrave a slightly darker shade of the wall colour is a good way of achieving a balance between the harmonious look of painting everything the same colour, and the contrast of using a white or highly contrasting colour.
Colour theory can be used to choose skirting board colours that compliment the dominant wall colour. Below are two graphics taken from Canva.com which explain a couple of ways you can use a colour wheel to identify coloured skirting boards ideas.
1.       Monochromatic- this is essentially where you would use different shades, hues and tints of the same base colour to achieve a sense of cohesion in the room.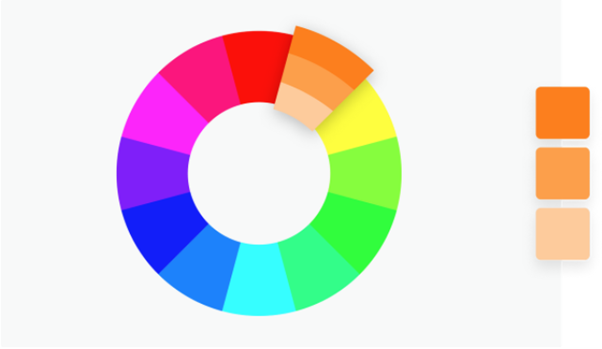 1.       Analogous- this is where you would use complimentary colours that are side by side on the colour wheel. It is recommended that of these colours, one is a dominant colour, and the others are used as accents. This is perfect when thinking about coloured skirting boards because they, along with architrave, will naturally accent the dominant wall colour.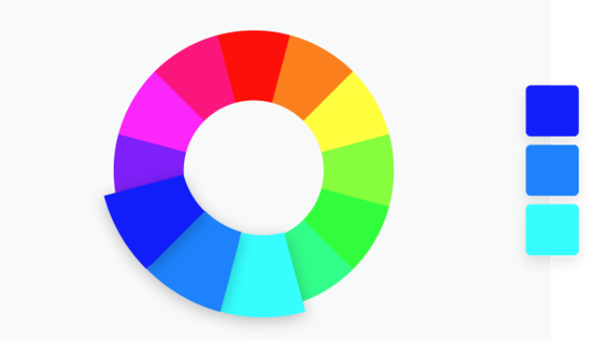 https://www.canva.com/colors/color-wheel/
White Skirting Boards
If coloured skirting boards are a bit too 'out there' for you, and you want to stick with a traditional white paint finish, explore some of the available options to find one that has undertones that complement the main colour in your scheme. This will tone down the contrast and make it appear less harsh overall.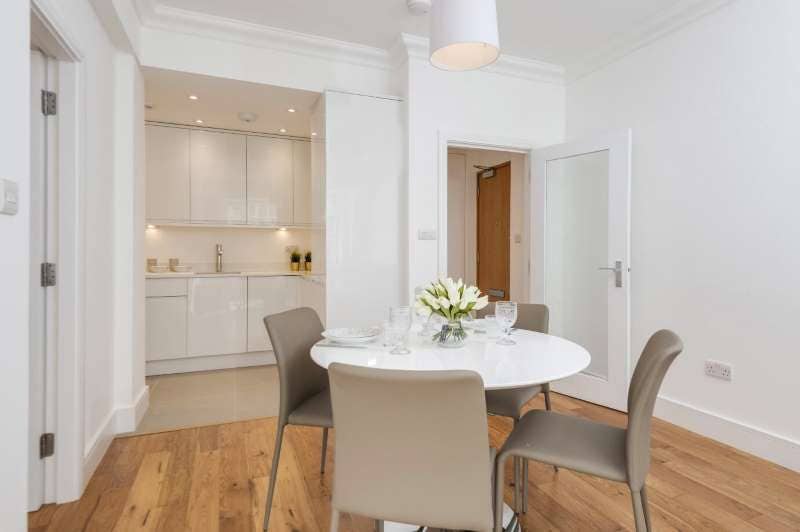 Using white skirting boards and architrave in this kitchen space helps to create a sense of freshness.
Not all white paints are created equal- Dulux alone carries 32 different whites at the time of writing! The different undertones in the pigment make some variations of white particularly well suited to certain other colours.
A classic white skirting board is a great option and is perfect if you want your space to feel airy and fresh. White is such a versatile colour that works well with many different colour schemes, providing you with greater flexibility to bring pops of colour through your walls, furniture and decorative pieces instead.
If you've gone for a minimal colour palette within your home, white skirting boards and architrave will complement the neutral tones beautifully whilst subtly making the whole room feel a lot more modern. White is also great if you want to tone down a bold colour scheme within a particular room. The contrast of the white skirting boards and architrave can in fact make a space with a bold colour scheme feel a lot more open and bright.

W