Inspiration for designing your rooms based on the Edwardian period
3717

Views
Posted on:
05/17/2017
A BRIEF BACKGROUND
The Edwardian era covers the brief reign of King Edward VII between 1901 – 1910. Compared to most reigns it was a short, yet intriguing period. However, the Edwardian style is generally recgonised to have lasted until 1920 (10 years after Kind Edwards death).
EDWARDIAN ARCHITECTURE
During the Edwardian period there was a housing boom, resulting in the many houses we see still see around today. There was a rise in the new middle classes and a demand for lighter, airier houses that were a departure from the darker, more compact Victorian designs. The Edwardians wanted houses that were near to the towns and cities so new suburbs sprang up in the leafy outskirts and close to newly built railway lines. These new houses were a mixture of terraces, semi's and villa styles built for local materials and they often had gardens front and back. Exteriors had balconies and verandas built from carved wood and stained glass was used in the windows.
Purlfrost do a great range of window film that is ideal for creating a stained glass effect on your windows based on original designs.
NEW BEGINNINGS AND INTERIOR STYLE
As mentioned in our Victorian period post, it had been an illustrious period with dark and deep colours, full on furnishings and a good amount of accessories. Therefore, the Edwardian period came at a time when people were after something different, a fresh perspective and new ideas. [1] Famous architects were Charles Rennie Mackintosh and Edwin Lutyens. The Edwardian Baroque style was widely used for public structures - Glasgow School of Art in the case of Rennie Mackintosh and Lutyens designed many English country houses and war memorials.
In regards to the colours of interiors, they were lighter, designs were prettier and furniture was made from bamboo and wicker, heavy looking furniture became a thing of the past.
Key names were Louis Comfort Tiffany (lamps), René Lalique (glassware) and Thomas Sheraton (furniture). Floors were highly polished and often in a herringbone pattern, and in kitchens and hallways you'd find quarry tiles, with exterior paths in laid with encaustic tiles. Colour schemes were prettier too; pinks, yellows, pale greens, lilacs and soft greys.
Bedford Square No.229, Rose Blush 1884, Abercorn Ochre No.123, Chester Square No.199, all Marble Matt emulsion from Mylands.
Wallpapers had a cheerful feel and featured roses, lilac, wisteria and sweet peas with ribbons and bows intertwined. Stripes were popular and simple damasks could be seen. One of the most popular wallpaper types was Lincrusta, or 'embossed wallpaper', it has a beautiful texture that could be painted in any colour. It is still around today in the form of Anaglypta and is making a comeback. Tiffany lamps were very popular due to the way they cleverly diffused the light, and lamp bases with reclining female bronze figures could be seen on many side tables. Pendant lights often had smoked glass shades and ceiling roses were used to hide wiring.
Pink and rose wallpaper, curtains in Ruskin trimmed in Picot Braid, woodwork painted in Silverflake 47-7P Sanderson water based eggshell, Morris & Co.
EDWARDIAN SKIRTING BOARD
During this era, Edwardian skirting boards and mouldings became much simpler than those of the Victorian period. They were still popular but there was a need for light and airy interiors which meant they became unfussy and more linear in design so they were less likely to collect dust. This was due to many Edwardian women starting to work and they wanted to be free from cleaning so picture rails and ornate mouldings had less complicated designs. Skirting Board heights were less than the previous era and looked more utilitarian as a result.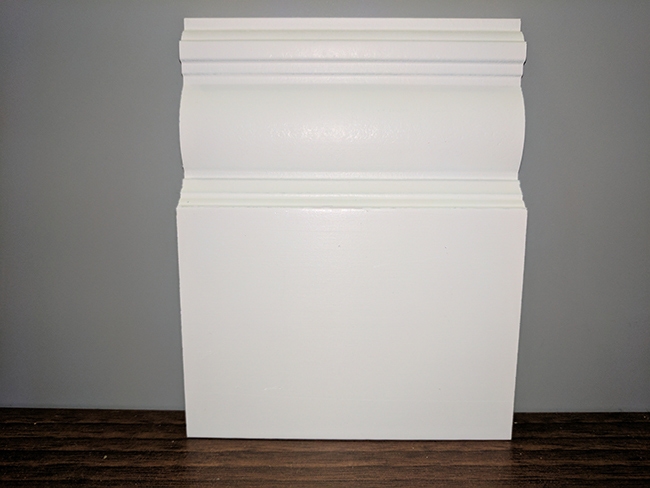 Edwardian Skirting Board Sample available from Skirting 4 U
INSPIRATIONAL VISITS:
Polesden Lacey is a country retreat four miles from Dorking and Junction 9 of the M25. It was the home to famous Edwardian hostess, Mrs Greville, who entertained many celebrities and the royals of the time.
https://www.nationaltrust.org.uk/polesden-lacey 
On June 10th 2017, you can visit Newark Park in Gloucestershire where you can experience Newark House as it would have been in the Edwardian era, watch maids working and cooks preparing high tea for the family.
Article written by Sophie Warren-Smith: