Instagram Home Accounts: Who We Love To Follow
491

Views
Posted on:
11/25/2019
Over the last few years we have seen the rise of the Instagram home community, as more and more people share their love for interiors and pictures of their stylish homes online. With the number of home accounts rising by the day, it can be hard to find the best accounts for you and your style. To help you out and introduce you to some new home accounts to swoon over we have put together a list of some of the Top 10 accounts on Instagram and have detailed why their accounts are loved by many. Their styles are favoured by many due to their stylish imagery, well placed throws and fiercely chopped cushions.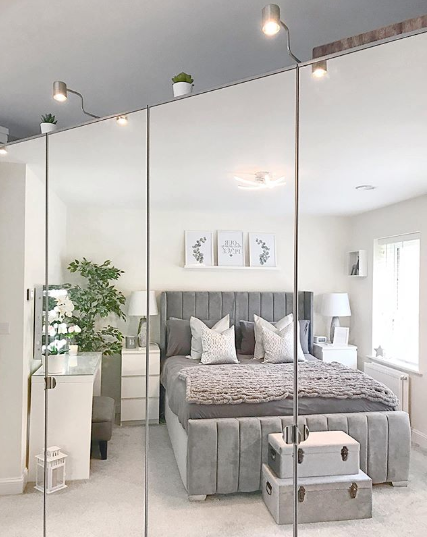 Image Credit: HomeOfKG
Top 10 Instagram Home Accounts 
The Gray Home
If you are a fan of luxe and glam interiors, then The Gray Home is definitely an account you should be following. You can expect a daily dose of glistening mirrored furniture, luxurious wallpaper and fluffy white throws. The epitome of interior goals!   
Grillo Designs
The award winning Medina is a must follow if you love all things DIY and home improvement. The grid of Grillo Designs is full of hacks, tips and high quality images showcasing her well crafted Birmingham home. The best thing about this account is the fact it showcases how you can make a rented house feel like a home.
Home Of KG
If like many you can't help but love a grey interior then Home Of KG is definitely worth a follow. With hints of charcoal, light grey and blush pinks, Katie's home is both stylish, glamourous and on trend. One of the best accounts on Instagram for grey inspo!
House To Home At Last
Are you currently undergoing a home renovation and looking for some inspiration? House To Home At Last is definitely an account worth checking out if so. With a wide range of before and after pictures and completed projects you will no doubt feel inspired for your own renovation project.  
Becky Home Sweet Home
If you love spending time on Instagram and looking for the latest hacks, DIY tips and art attacks then we have no doubt you will love Becky Home Sweet Home. Becky shares a range of interior and home lifestyle posts on her page and will more than likely inspire you to take on a creative project for your home.  
Interior Style Ltd
Hayley is the face behind this account, and she is a professional interior designer that shares a wide range of professional and personal projects on her page Interior Style Ltd. You can expect to see plenty of show home images that will probably make you want to redecorate your whole home.
The Lads Pad
If you are wanting some inspiration for something dark, black and grey then The Lads Pad is the account for you. With striking black wallpaper throughout and an enormous luxurious black velvet bed their page oozes both luxury and opulence.
Catwalk To Cowpat
You might in fact be a fan of something a little more rustic and of a farmhouse style. If you love an interior that showcases plenty of wood and natural materials then Catwalk To Cowpat is worth a follow due to their glamourous take on farmhouse.
The Thompsons House
From monochromatic wallpaper to grey safari prints The Thompsons House is a home that is full of character and bold patterns. Definitely worth checking out if you are wanting to add a statement to your home décor but in a way that is still stylish and on trend.
     10. Life On Jack Lane
If you are wanting to find home décor inspiration on a budget then one of our favourite accounts has to be Life On Jack Lane her page is full of inspirational content and stunning pics of her home. Every photo is truly stunning and showcases elements of her Scandinavian inspired interior.  
Image Credit: LifeOnJackLane
There are so many home interior accounts on Instagram suited to a wide range of different styles. We could have listed hundreds of accounts that have inspired us. We hope you find inspiration for your own home from at least one of these accounts. If you have your own home account on Instagram be sure to follow and connect with us on Instagram so we can swoon over your home!
Be sure to check out our other Interior Design blogs for more inspiration for your home.