Moisture Resistant MDF- Is It Always Green?
13284

Views
Posted on:
06/22/2016
Moisture resistant MDF is often green in colour or has a green core.
In particular, moisture resistant (MR) MDF sheets that are 8' x 4' (2440mm x 1220mm) and 10' x 4' (3050mm x 1220mm) are green, with larger sheet sizes being brown in colour.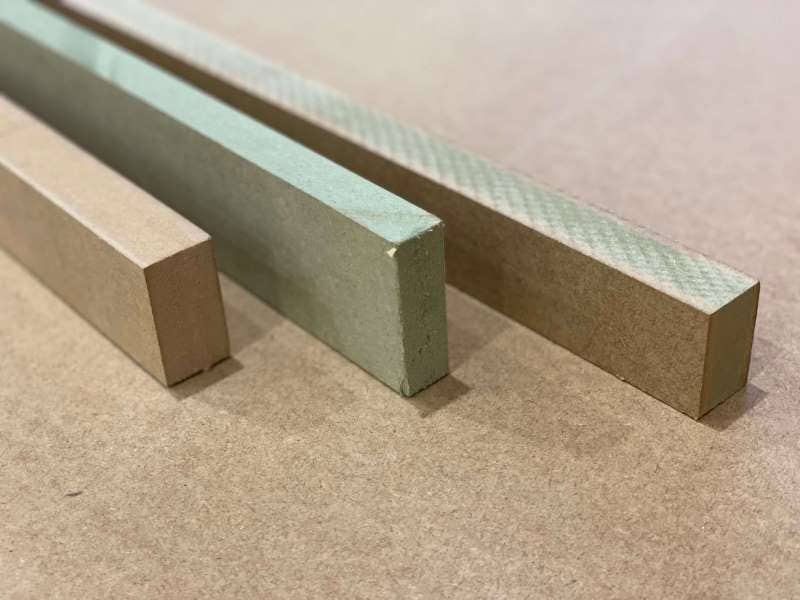 Three variants of moisture resistant (MR) MDF: Left- MR MDF with no green dye added. Centre- MR MDF with green dye throughout. Right- MR MD with green dye running through the core of the material only.
What is Moisture Resistant MDF?
Moisture resistant MDF is a sheet material manufactured from compressed wood fibres that are combined with resin to form a panel.
MR MDF has a high internal bond strength, which makes it very versatile and suited to interior applications such as furniture manufacturing and mouldings like skirting boards, architrave, and window boards.
The moisture resistant properties of this MDF mean it can be used in areas that may be subject to occasional wetting or humidity.
Why is some moisture resistant MDF green?
MDF manufacturers produce a range of MDF sheet products with differing specifications and properties to suit a varied customer base.
One of the largest markets for MDF sheet material is in building and construction. Companies in this industry need to easily tell different grades of MDF apart visually when on site.
To help with this, MDF manufacturers added a green dye to moisture resistant MDF sheets so they could be identified easily.
Building and construction trades use a lot of 8' x 4' and 10' x 4' MDF sheets, so nearly all moisture resistant MDF in these sheet sizes will be green or have a green core.
This is a pack of 10' x 4' MR MDF which has a green dye running throughout the material for easy identification.
The green dye that is added to MR MDF is purely for identification purposes and has no moisture-resisting properties itself. The resistance to moisture comes from the resin that is used to bond the wood fibres together during the manufacture of the MDF sheets, which differs from that used in standard grade MDF.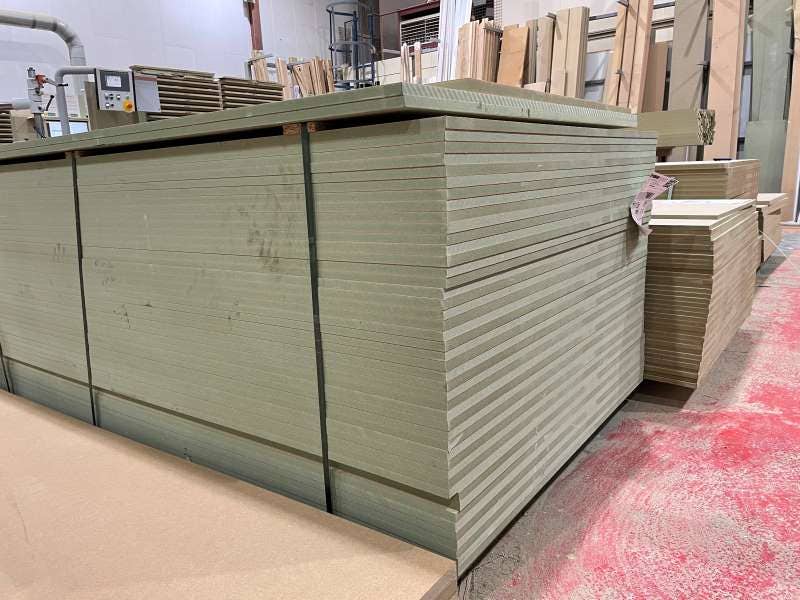 Can you get moisture resistant MDF that is not Green?
Larger sheets of moisture resistant MDF (generally 14' x 4' and upwards) are brown in colour like a standard MDF and have no green dye added to them.
One of the main markets for larger sheets of MDF is in the manufacture of moisture resistant MDF skirting boards and other interior mouldings.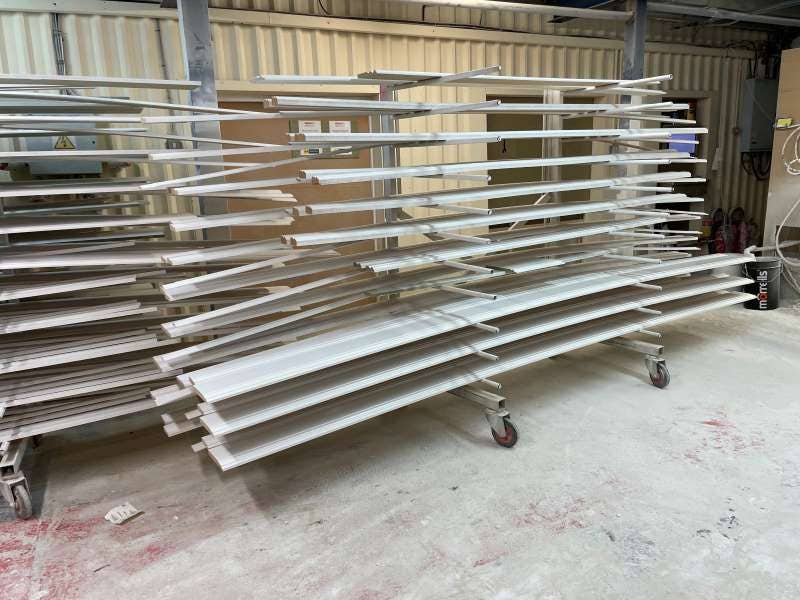 MDF skirting boards that have been manufactured from MR MDF that has no green dye present in the material
Because these products will be painted, it is much better for skirting board manufacturers to work with MDF that doesn't contain a dye. Green MDF requires more work and primer to make sure the surface of the product is fit for painting, with no green colour bleeding through to the surface.
10 years ago, at the request of the skirting board industry, green dye was no longer put into the larger MDF sheets because manufacturers found that it was taking a lot of primer to fully cover the green colour, which significantly increased production costs.
Is All MDF Moisture Resistant?
No, there are many variations of MDF for a vast range of uses, so not all MDF is moisture resistant. Below is a short summary of the different types of MDF and their uses: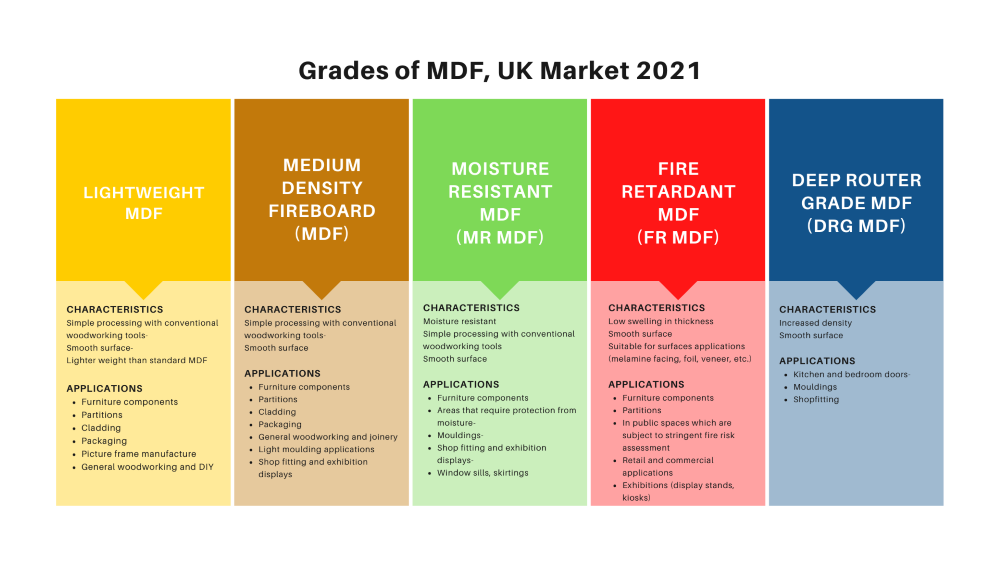 Source: Kronospan
Do you need to prime moisture resistant MDF?
If you plan to paint anything made from MDF, whether it is moisture resistant or not, it will need to be primed first.
MDF needs to be primed to seal the MDF so that a topcoat of paint does not sink into the MDF material. Priming also allows for a quality final paint finish by creating a smooth surface on which the paint will be applied.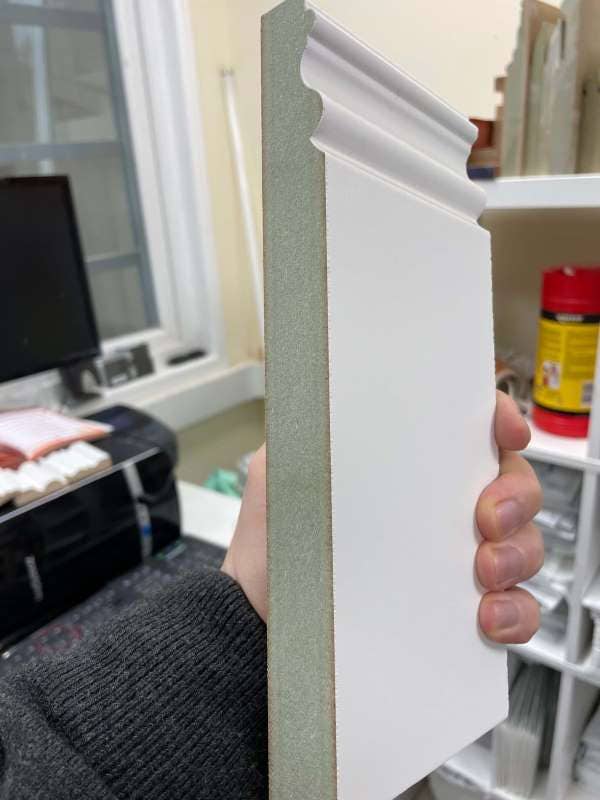 Is Moisture Resistant MDF Waterproof?
Moisture resistance is not the same as waterproof. Moisture resistant MDF is not a fully waterproof material- it cannot be submerged in water or used in areas where it would get very wet, like outside in the rain for example.
Moisture resistant (MR) MDF is designed to function in humid areas where moisture is present in the air without 'splitting' or 'flaring up'.
This means it is a perfectly suitable material for use in domestic kitchens or bathrooms, for example, as it will not be affected by steam coming from cooking or showering. Be sure to read this article for more information on how moisture resistant MDF skirting boards can be used in a bathroom.


About the Author
Kieron Miller is the Managing Director of Skirting 4 U and has been working in the skirting board and online retail industry since 2012. Kieron has been using his extensive product knowledge and problem-solving experience to help both trade and private consumers all over the country find the perfect skirting board products for their projects. He continues to innovate new solutions and product ideas as the market continues to grow.