Six Reasons to Choose Square Skirting Board
11058

Views
Posted on:
08/22/2017
Whether you are an interiors expert, or just looking for a bit of a change, choosing the right skirting board for your home can quickly become a nightmare, especially if you do not know exactly what you are looking for. Here at Skirting4U, we have come up with 6 reasons why you should choose square skirting over a more traditional design: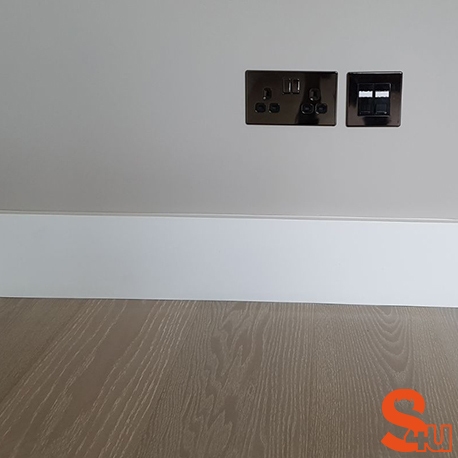 There are No Size Restrictions
Square skirting boards are great at creating a minimalistic and clean finish to any given room, regardless of interior style. With the simplistic design, and no moulding to direct attention, it can draw the eye further into a room, and help create the illusion of more space.
The popularity of Square skirting and architrave has risen drastically, due to its modern finish. Not only this, but it also tends to work especially well in more contemporary homes, where the skirting boards tend to be much shorter than usual (around 4 inches/95mm).
With other mouldings, you often have to think carefully about size, as a higher skirting board can 'lose' its design when compared to a more standard-sized skirting board. As the Square design does not incorporate any mouldings, this problem will not occur, meaning that there are no height restrictions.
Top Tip – If you decide to install a Square skirting board with a height over 250mm, try to keep the overall thickness as low as possible to avoid a bulky appearance.
Painting / Installation is Quick and Easy
One of the major advantages of using Square skirting, over other designs, is how easy it is to work with. When it comes to installation, you will not have to go through the effort of scribing the skirting to create internal corners. Instead, the two corners can simply slot together, which ends up saving a lot of time and effort. Likewise, creating mitre joints for the external corners is very simple, so you can drastically reduce your installation time – particularly on larger, multi-room projects.
Another great, time-saving characteristic of Square skirting boards is how easy they are to paint. With no intricate details to consider, a final top coat of paint can be applied significantly quicker than on more traditional skirting board designs. Because of this, the risk of drip marks is also practically eliminated, too, as there are no crevices that can be overload with paint.
Suits any interior style
One of the great things about having so many design options available to you when it comes to choosing new skirting and architrave is that you can pick a specific design that will complement other elements in the room, such as pattern and furnishing style. The drawback of this almost limitless choice is that making a decision can be really hard.
Some people feel pressure to 'not make the wrong decision' rather than being concerned with making the right choice. Put a different way, your feeling towards choosing new skirting boards may be coming from a position of "I don't really have a preference as long as it looks good", rather than "I need to find the perfect design for this room". If you identify with this group of people then it is a good idea to consider square skirting boards over a more traditional moulding because it can fit in with every interior style. Being very subtle, it will be able to blend in with the room as a whole rather than being a design feature or statement.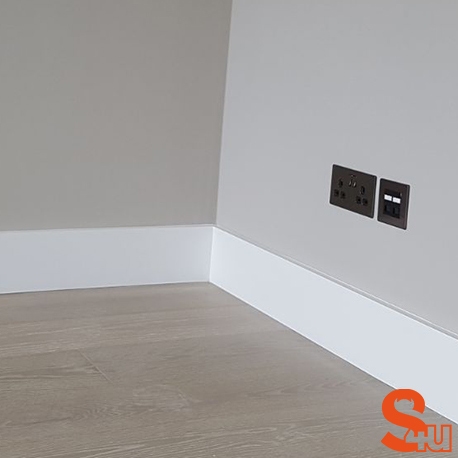 Low maintenance
A small, but important, buying consideration when buying new skirting boards is how much work they will generate in terms of keeping them clean and in good condition. We do hear from customers occasionally that they are keen to avoid particular skirting board designs because they are a "dust trap". It is true to say that some skirting designs incorporate that many ridges and pieces of detailing, that any dust from the surroundings will settle within them and spoil their appearance if not cleaned regularly. Obviously, square skirting board doesn't generate that problem, so if you despise cleaning then a square edge is the way to go.
With regards to other maintenance issues, our MDF skirting boards are extremely durable so problems should be few and far between. In high traffic areas of the home such as hallways, kitchens and living rooms there is always a chance of the odd knock to the face of the skirting board which may result in a small dent or chip. On a square skirting board, such issues are easily fixed with a bit of filler and touch up paint. On more traditional skirting board designs if the moulding profile itself was to take a knock it would be much less straightforward to repair and remain consistent with the pattern.
Less expensive
This is perhaps one of the more obvious and broadly appealing reasons to choose Square over another design of skirting board. All our Square products are 10% less expensive than other styles because there is one less process involved when manufacturing them. Square skirting boards do not need to have an additional design moulded into them, so we are able to produce them at a reduced cost. If budget is the key factor that is driving your decision, you can't get a more cost-effective skirting board solution than square!
Easy to transition from skirting to the architrave
Traditionally, you would install an architrave that is slightly thicker than the skirting board that you have chosen. This is because discrepancies in the walls mean that they are not perfectly square, so running the skirting and architrave flush together is not a viable option.
In contemporary buildings, however, this issue is not so prevalent, and it is becoming increasingly popular to install skirting and architrave of the same thickness so that the two do in fact run flush where they meet. The beauty of Square skirting and architrave is that you can easily create a single, seamless border for your whole room around the perimeter of the floor and surrounding the door(s).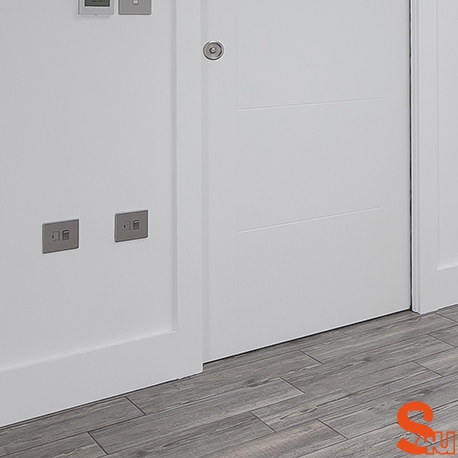 About the Author
Kieron Miller is the Managing Director of Skirting 4 U and has been working in the skirting board and online retail industry since 2012. Kieron has been using his extensive product knowledge and problem-solving experience to help both trade and private consumers all over the country find the perfect skirting board products for their projects. He continues to innovate new solutions and product ideas as the market continues to grow.