Three Reasons To Choose Primed Skirting Boards
7681

Views
Posted on:
11/20/2019
When it comes to shopping for your skirting boards, there are an abundance of decisions that need to be made to ensure you get the right product for your home. One of those decisions being your choice of finish for your skirting boards and architrave. Here at Skirting 4 U you can choose from unprimed, primed & fully finished in white gloss or white satin.
One of the main factors that will influence your choice is both time & how much DIY you want to do or pay someone to do in your home.  The unprimed option will mean your boards will arrive "raw" and untreated, meaning you will need to do the priming and fully finishing yourself. Primed boards go one extra step and arrive sanded down with a white primer on.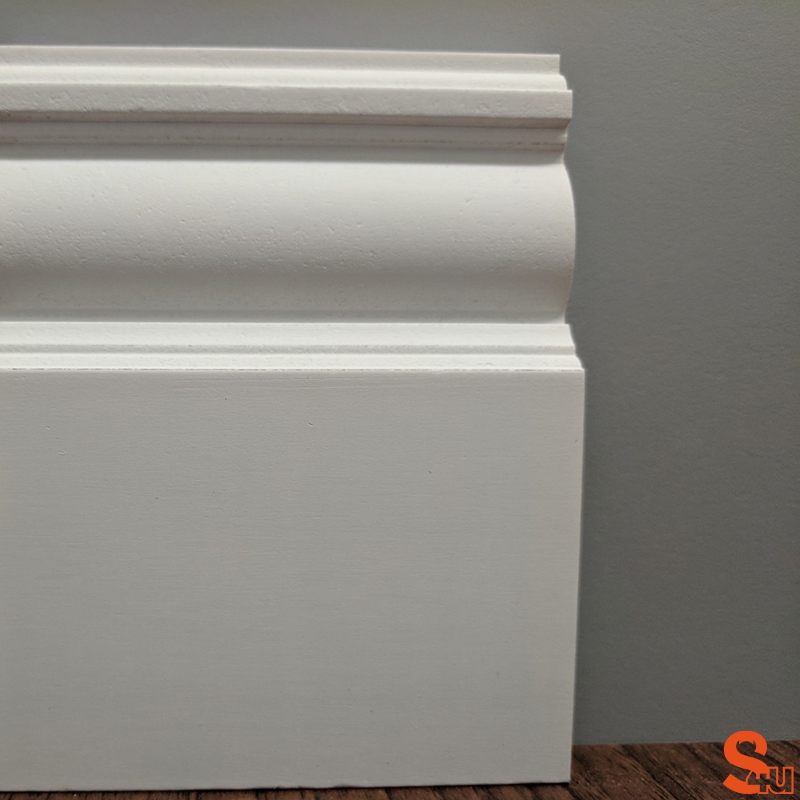 When you choose the fully finished option, they will also be primed first, so to help you decide on what finish to go for we're going to highlight a few of the advantages of opting for a primed finish.
Why Choose A Primed Finish On Your Skirting Boards?
Smooth Surface
Before your skirting boards or architrave are primed they are sanded down by hand, this helps create a smooth finish perfect for priming and painting your skirting boards. A blemish free base is also guaranteed as our white primer is sprayed onto your boards to ensure an even application.
High Quality Finish
You can expect a high quality finish of the primed skirting boards due to the primer being applied with a spray gun. This type of approach offers a more flawless finish than what you would get if you were to hand brush the primer on. This is particularly important if you are going for a more intricate profile as it will be a little more difficult to get into the finer details of your skirting boards by hand.
Save Time
One of the major benefits of choosing a primed finish on your skirting boards is of course to save time and make your DIY project a lot more efficient. By opting for a board that has already been prepped and primed you will only need to apply the final coat of paint to your skirting boards which will no doubt cut your time spent on this project in half. This is a great advantage if you are working on a time sensitive project or have spent a lot of time on your renovation you might favour an option that saves you time.
Overall the finish of your boards is completely down to you and the project you are working on. Take into account how much time you have and how much of the job you want to take in. If you are wanting to save more time be sure to check out our Primed & Fully Finished option and get your boards finished in our white satin or white gloss. We are one of the only companies that offer a fully finishing option. For something a little more bespoke we can even fully finish your boards in a RAL colour of your choice, perfect if you are wanting to add a coloured skirting board or architrave to your space.
Browse our wide range of skirting boards and architrave online.
For more bespoke options be sure to get in touch with one of our friendly sales team who will be more than happy to help with your request. You can call the team on 01922 451 689 or email [email protected] with your enquiry and one of the team will be more than happy to help.