Victorian Interior Design: How To Make This Style Work In Your Home
804

Views
Posted on:
10/28/2019
Victorian inspired interior design will long be a timeless classic and is a perfect style to adopt if you are wanting to introduce more traditional décor into your interior. Perhaps you have a period property and want to embrace the character of the house with complimentary décor or you are wanting a space to feel a little less modern. Victorian design is one that can suit many different styles.
It can sometimes be hard to find ideas and inspiration for design styles that aren't necessarily trending in the world of interiors so we have put together a helpful guide of the top 10 must haves needed to make your space feel a little more Victorian. 
Like the name suggests this interior design style became popular during the Victorian era that ran from 1837 to 1901 under the reign of Queen Victoria. Properties with the finest interiors were both regal and elegant, all of which matched Queen Victoria's luxurious taste. Plain, minimal homes were considered to be of bad taste, and the more décor you had was said to show wealth and class. If you too like to fill your home with decorative details and like a space to be full of character and décor then this interior style might just be the one for you!
Top 10 Must Haves For A Victorian Interior
Decorative Mouldings
The use of decorative mouldings on the walls are hugely popular within Victorian interiors. They allow you to add authentic character and detailing to a space. We have a huge collection available online, and even do a Victorian style dado and picture rail should this suit the look you are wanting to go for.   
Large Skirting Boards
As well as the decorative mouldings, the skirting boards are too a statement feature of this interior design style. Traditional properties tend to have high ceilings, which in turn leads to Tall Skirting Boards being the preference. You can choose from a wide range of Victorian skirting boards in both standard and tall heights online, all of which have slight differences between the detailing and intricacies. The Victorian profile is both decorative and traditional, making it a must have to add true character to your home.
Bold Colours & Patterns
Many Victorian Interiors feature bold and dark colour palettes, and shy away from neutral tones like white and grey.  When deciding on your colour scheme be brave with your choices and opt for something deep and rich! You could also go for a bold wallpaper pattern too should you want to make a real statement in your home.    
Velvet is a must
Victorian interiors are renowned for being adorned with different textures and maximising the use of textiles. Velvet was the material of choice, especially for upholstered furniture back then. Velvet worked because it made standard items look a lot more luxurious and added to the overall elegance of the room.
Framed Wall Art
Like many of the items and styles we have listed, Framed Wall Art adds a sense of opulence to the space. Traditionally, art would have been hung from picture rails alongside plates and other decorative pieces to show a families wealth.
Antique Decorative Ornaments
We recommend taking a trip to your local antique or vintage store and picking up some decorative ornaments to fill your space. We are certain you will find some great, traditional pieces that will add a bit of life to your space and avoid it looking too minimal.
Wooden Furniture
When it comes to choosing furniture for your space, anything wooden goes! Wooden furniture is a great investment when it comes to shopping for your home as it's long lasting and durable. As well as practicality reasons it ties into the overall vintage, traditional theme. You can even try your hand at upcycling some furniture for your home if you did want to get a little creative.  
Dark Wood Flooring
Wooden flooring is hugely popular throughout traditional properties also. Initially this would have been for structural purposes, however now its more for reasons associated with the overall décor. Dark wood especially allows you to follow the dark colour palette right through from walls, to furniture to flooring.  
Grand Lighting
Add a bit grandeur to your space with gold chandeliers and regal lighting, again incoprating those elements of lavishness and luxury. However, it is important that you make smart choices when it comes to your lighting, as something that doesn't give off enough light could clash with the chosen colour palette of the room.
     10. Draped Curtains
This is probably one of the most traditional decorative items we have suggested. Draped curtains ooze luxury and in the past would have been a huge interior must have. This one really is personal preference, and all depends on how traditional you want to go!
Need More Victorian Design Inspiration?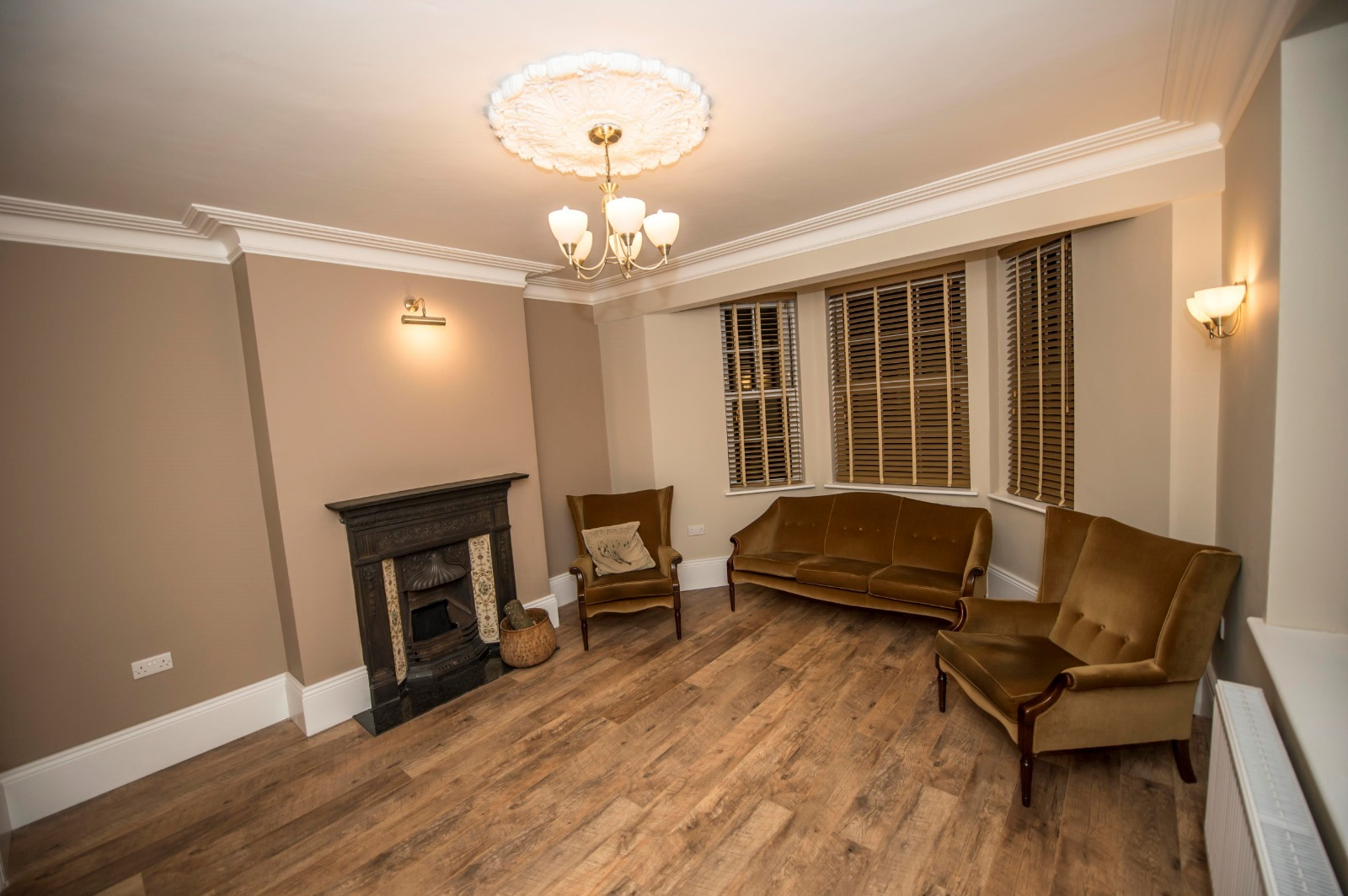 Overall, with Victorian design you are free to be creative with your space and really create something that is traditional, grand and full of life. If you did want some further Victorian interior inspiration be sure to check out our latest Youtube Video. In the video we touch on Victorian design, highlight features of wall panelling and get stuck into dark colour tones. Be sure to check it out if like us you are a fan of Victorian Interiors.
Browse our Victorian style skirting boards and decorative mouldings online to see if there's a style to suit the look you want to go for.