Finger Jointed Pine - The Best Softwood for Skirting Boards?
2768

Views
Posted on:
03/31/2021
What is Finger Jointed Pine?
Finger jointed pine is a softwood timber material that is made by joining smaller pieces of pine wood tightly together using a finger joint, which is made by interlocking sections of wood that look 'like fingers' and securing them with glue to form a tight bond that looks like a zig-zag pattern when inspected closely (though when painted, the joint is largely invisible).
A close-up showing how the joint looks like interlocking 'fingers'- hence the name finger joint pine.
Finger Joint Pine for Skirting Boards and Architrave
There are a few really good reasons why finger joint pine is a superior material for skirting boards and architrave than solid pine planks.
Firstly, the process of making finger joint pine removes all knots from the wood, so when it is machined to create skirting board and architrave there are no natural imperfections that might compromise the final paint finish and look of the product.
Secondly, being manufactured from smaller sections reduces the risk of the planks warping or twisting either before installation or in situ, which is one of the main challenges people face when working with natural wood products. This is a tutorial we found online where someone is fitting pine skirting boards, but they have real trouble with warping which would not be the case with finger joint pine.
Skip the video to 4:30 to see a real example of how solid pine skirting boards can warp, and the difficulties this can create when fitting them.
A further advantage of using finger joint pine for skirting boards and architrave is that it can be supplied in a guaranteed length size, which makes planning much easier.
With pine being a natural product, solid planks cut directly from trees can come in a range of sizes. Generally, skirting board manufacturers and suppliers who use solid pine lengths supply by the linear metre so it is difficult to know exactly what will arrive. This makes planning joins in skirting board quite challenging, and impossible to do ahead of time before the products are delivered.
By manufacturing skirting and architrave from finger joint pine, Skirting 4 U are able to offer standard 3-metre lengths of material so there are no surprises when your order arrives!
Finishing Finger Joint Pine
Finger joint pine is planed to a smooth finish and is perfect for priming and painting, as well as staining or varnishing if you want to take advantage of the natural wood grain and show it off as a feature in your home.
If you order pine skirting boards or pine architrave from Skirting 4 U, you have the option to have us prime your products for you, so they arrive ready to install, saving you the time and hassle of priming them yourself on site.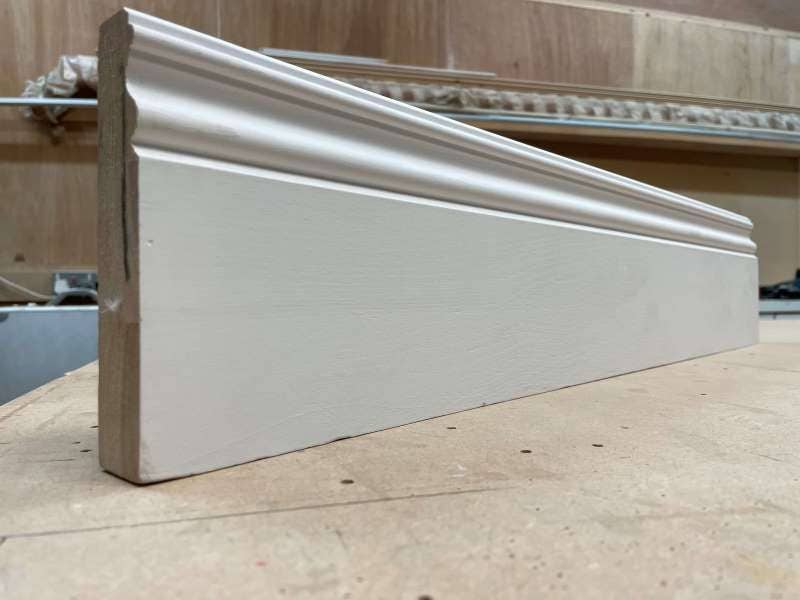 Finger Joint Pine skirting board white primed and ready to paint.
Staining Finger Joint Pine
Being a natural material, finger joint pine can be stained instead of primed and painted if having an exposed wood grain appeals to you. One thing to consider is how the tain may draw attention to the finger joints in the wood, and whether or not you see that as a positive or negative feature. Below you will find some close up images of some pine skirting board that we have applied a wood stain to, so that you can see the effect the stain has on the finger joints.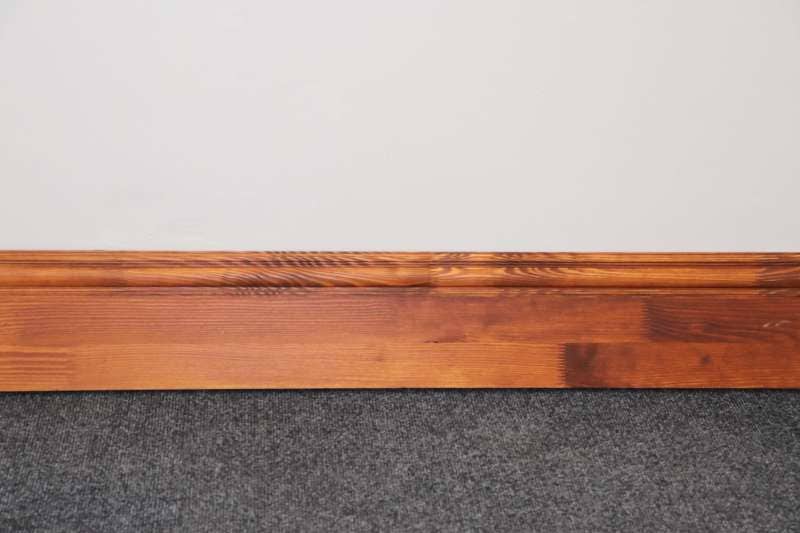 This photo shows what a stained skirting board looks like from a natural distance. The wood grain in the profile really catches your eye, and you can see some darker sections around some, but not all, of the finger joints. The stain used was a dark rosewood, so the effect may be different for a lighter stain.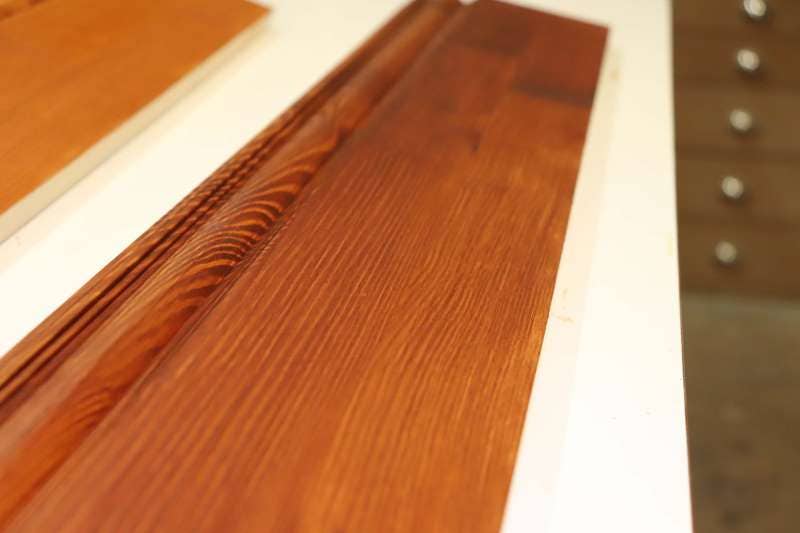 A close up shot of how the wood grain shows up once the finger joint pine has been stained.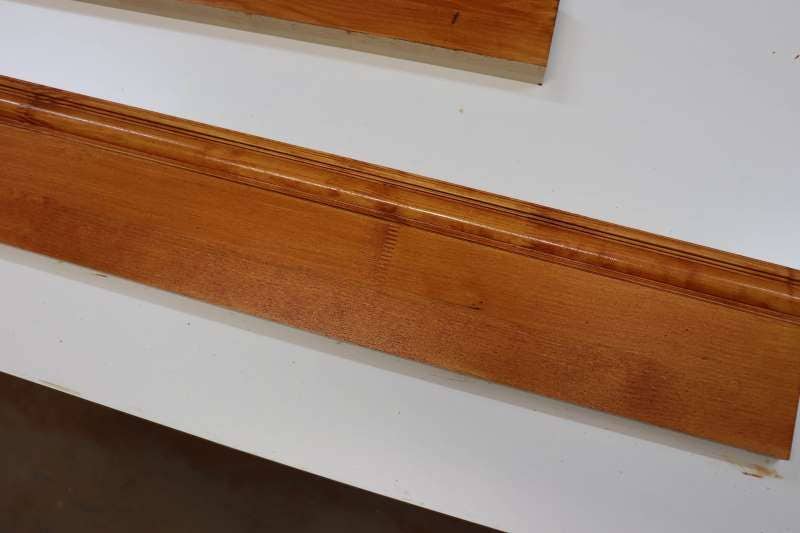 This picture shows the finger joint pine in a lighter teak woodstain. The joints are still visible but not as accentuated as with the dark rsewood stain.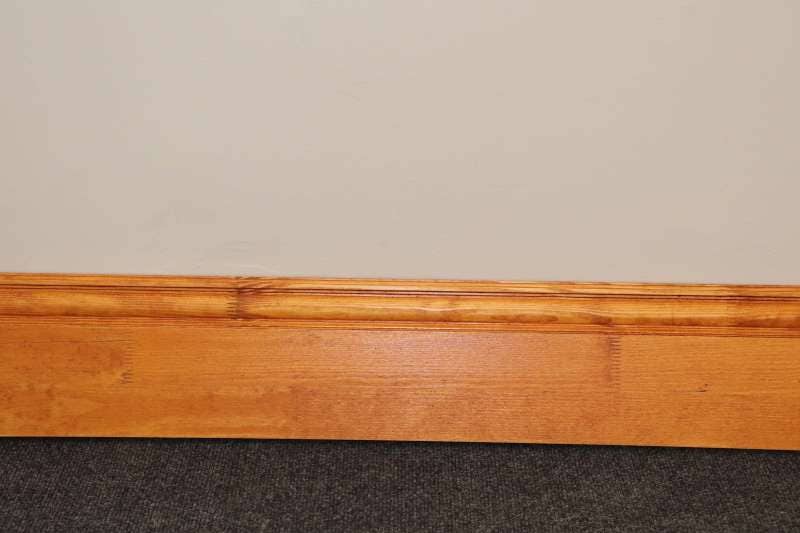 This is what the teak stain looks like on a finger jointed pine skirting board from a distance.
Technical Specifications of Finger Joint Pine Used by Skirting 4 U
If you are a builder or contractor and you need to know the technical specification of the pine used by Skirting 4 U to create skirting boards, architrave and other mouldings, the details are as follows:
100% FSC
European pine
D4 glue
Formaldehyde emission – E1
Density 530 – 550 kg m3
KKK and DKD K = Finger jointed D = Clear
RTTR R= Radial T= Tangential direction of grain
Edge gluing allowed in core lamels
Minimum length of lamella 180mm between finger joints
Elements clear, no knots, no blue, no resin.
Moisture content 12% average + or – 2%
Tolerance on thickness and width –0/+1mm, on length –0/+50mm.
Curvature allowed 1mm over 1 metre length

If you need any assistance or further information on our pine products please don't hesitate to contact our sales and customer support team who will be happy to discuss this with you.