Skirting Board Covers- The Convenient Truth
The big advantage of skirting covers is that you don't have to remove old skirting boards before fitting new ones. Removing old skirting boards takes time, creates mess and can damage the plaster on your walls. Also, at the end of the process you are left with skirting boards that need to be disposed of. Unless you have a skip on site this can be an additional headache you could probably do without!

As standard, our skirting covers are designed to fit over a standard 18mm thick skirting board. We machine a recess in the back of the cover 19mm deep so that it fits comfortably over a skirting board of this thickness. When ordering, you can specify the height of the skirting you intend to cover and we will machine a board for you that covers this comfortably.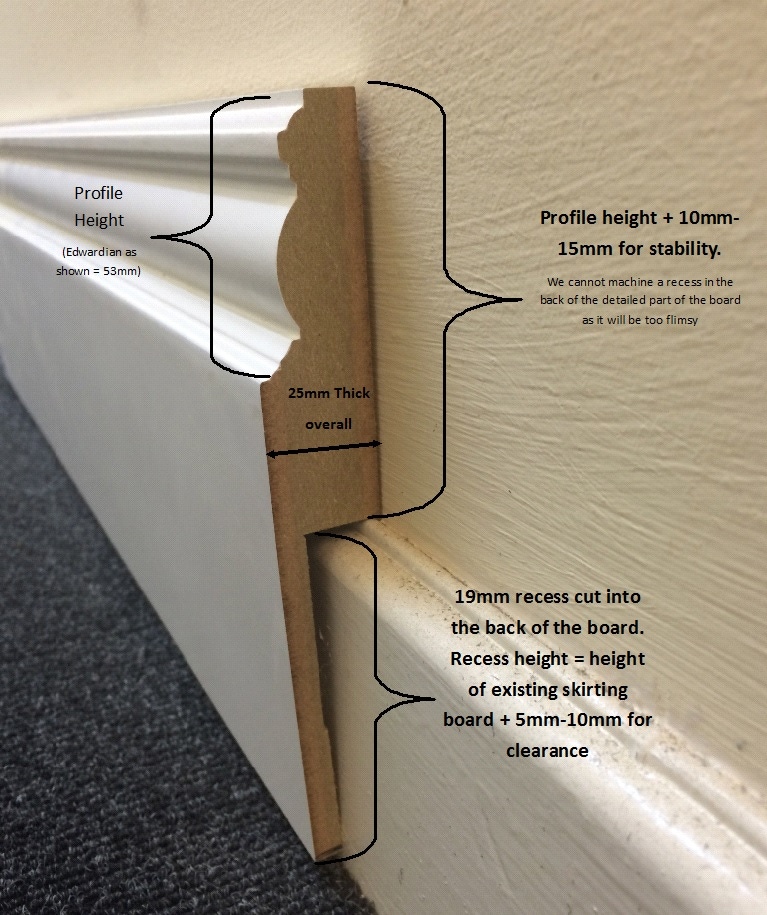 Product shown is the Edwardian skirting cover. This as not been fitted, it has been placed temporarily in position to illustrate the concept.
The finish shown is primed only, not fully finished
Because we cannot cut into the back of the profile detail (the board will become very flimsy and fragile), the design you choose will affect the overall height of the cover. If you want to keep the height of your new skirting close to the original, you should consider something very simplistic like square, edge or bullnose.
Important Note:
The height options available for skirting covers are based upon the height of your existing skirting combined with the height of the design you have chosen. If you are ordering skirting covers and regular skirting boards for the same room, you may find that you cannot order both products at the same size. If this is the case, please contact us and let us know what you are trying to achieve and we can arrange for both the covers and skirting boards to be cut to the same size.
About the Author
Kieron Miller is the Managing Director of Skirting 4 U and has been working in the skirting board and online retail industry since 2012. Kieron has been using his extensive product knowledge and problem-solving experience to help both trade and private consumers all over the country find the perfect skirting board products for their projects. He continues to innovate new solutions and product ideas as the market continues to grow.