MDF Skirting Board Covers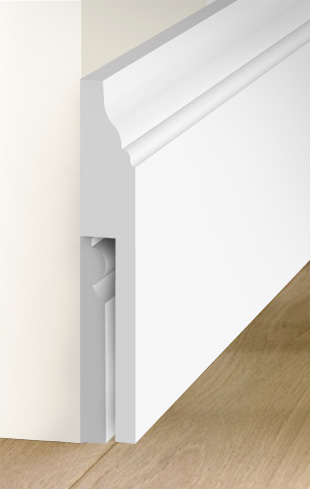 Looking for the easiest way to update your skirting boards?
You have come to the right place!
Due to popular demand, Skirting 4 U now offers a new range of manufactured MDF Skirting Covers, (also know as 'skirting over skirting'). A skirting board cover looks exactly the same as a regular skirting board, is often favoured for its ease of application, as these covers can be applied directly over your current skirting, without the need for any removal. 
Here are just a few reasons why skirting board covers are loved by our customers:
Zero Risk
When attempting to remove a skirting board yourself, you always run the risk of potentially damaging the surface of your wall, adding yet another additional expense to the total cost of the replacement.
Zero Hassle
Skirting-over-skirting is by far one of the most hassle-free options when considering a skirting board upgrade. Fitting a skirting board cover eliminates the need to remove your existing skirting board, saving you time to spend on the things that are important to you.
Cheaper Alternative
We manufacture skirting board covers for a small additional cost, which is MUCH LESS than it would cost if you had to repair damaged plaster, or pay a tradesman to remove your old skirting boards.
Less Mess
Fitting a skirting board cover gives you the opportunity to hide any visible cables (telephone wires etc) at the same time as covering your existing skirting board.