MDF Skirting Board Covers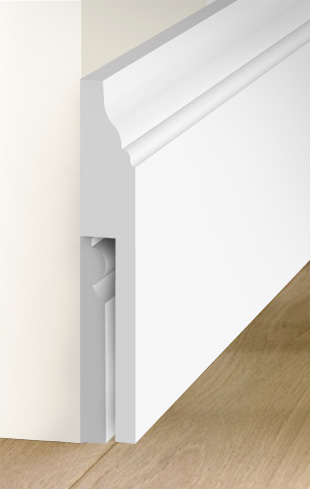 Looking for the easiest way to update your skirting boards?
You have come to the right place!
In response to overwhelming demand, we now manufacture a full range of MDF Skirting Covers, (or 'skirting over skirting' as it is sometimes called). A skirting board cover looks exactly the same as a regular skirting board, but is manufactured in a way that allows you to fit it straight over your existing skirting board without the need to remove what is already there. 
Reasons our customers buy skirting board covers:
NO RISK!
If you remove your existing skirting boards, you risk damaging the surface of your wall, which could take time and money to repair before fitting new skirting boards.

SAVE TIME!
Fitting a skirting board cover eliminates the need to remove your existing skirting board, saving you time to spend on the things that are important to you.
SAVE MONEY!
We manufacture skirting board covers for a small additional cost, which is MUCH LESS than it would cost if you had to repair damaged plaster, or pay a tradesman to remove your old skirting boards.
DE-CLUTTER YOUR SPACE!
Fitting a skirting board cover gives you the opportunity to hide any visible cables (telephone wires etc) at the same time as covering your existing skirting board.