How To Make Dado and Picture Rails Work In Modern Interiors
22257

Views
Posted on:
08/13/2019
Both picture and dado rails have often been associated with more traditional interiors and period style properties. However, more and more interior enthusiasts are finding new and creative ways to introduce these decorative mouldings into their home, taking them away from their traditional functionality purposes. If you are decorating a modern interior, you may be wondering how you could introduce decorative mouldings into your space without them looking out of place and outdated. Or you might just be wanting some ideas as to how you can modernise the decorative mouldings already in your space. There are many ways in which you can introduce dado rails and picture rails making them a feature in your home that focuses on style not practicality.
What are picture & dado rails?
First introduced in period properties, the picture and dado rails were originally for functionality purposes rather than decoration. Picture rails were traditionally mounted onto walls just below ceiling level. People would attach hooks to them and hang decorative pieces such as art, mirrors and plates which was said to show a family's affluence and wealth. They helped prevent wall surfaces being marred or damaged from the hanging of art pieces. It wasn't until the rise of Colonial style homes after the 1920's where people hung art and pictures onto the wall directly as you would now. In period properties today you will still find picture rails adorn the high ceilings, however it would be solely for decorative use.
The dado rail was also historically used for more practical reasons and served a purpose within traditional homes. The dado rail, also referred to as a chair rail, protected the wall in areas that would be of high traffic and have people passing or furniture touching the wall. The protection of walls was clearly very important within historical interiors. The dado rail also acted as a barrier between the two different sections of the wall. Underneath the rail it was common to install wall panelling which would have helped hide staining caused from rising damp.
Picture and dado rails are perfect if you are a fan of decorative detailing that will make your space feel traditional but not old fashioned. Whether you have existing dado and picture rails that need a revamp or are after a style overhaul and want to introduce them into your property we have outlined four creative ways to make them work in your home.   
Four Ways You Can Use Dado & Picture Rails Within Your Home
Use them for a purpose & create an illusion in smaller properties
If you are decorating a modern interior, you are probably keen to make a space feel larger. With the use of decorative mouldings carefully aligned on your walls you can in fact create the illusion of more space and a higher ceiling. In modern interiors, particularly new build properties, the ceiling is much lower than traditional properties and rooms feel a lot smaller. With less wall space to decorate it can be hard to pick the right colour scheme or decorative theme.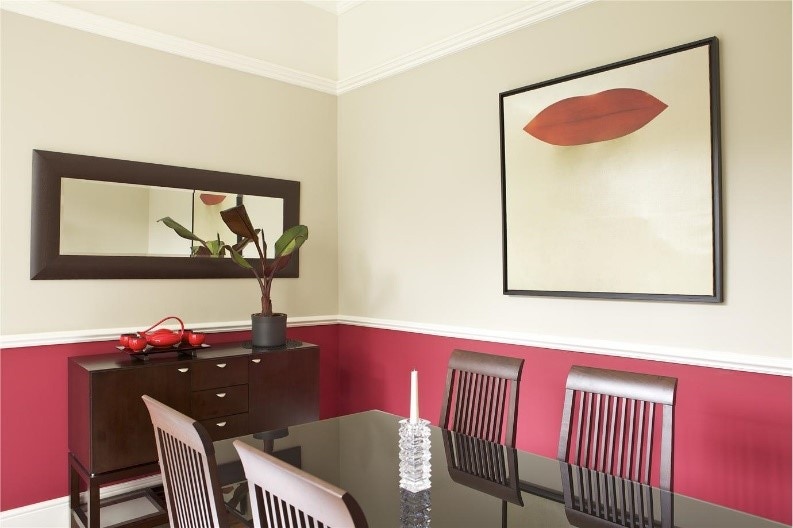 Farrow and Ball have highlighted how the use of contrasting colours can contribute to making a room feel more spacious. The use of the neutral colour at the top and the dark tone below the dado rail prevents the room from looking like it is closing in on you. When choosing two contrast paint colours you in fact make the decorative mouldings appear more modern as they create the look of simple straight lines and block colours, which is a huge trend within contemporary interior design.
Say goodbye to traditional white
If you are somebody that likes to make a statement within their interior, and you want every feature to be showcased, then painted dado and picture rails might just be the answer. This is a great option if you are wanting to add pops of vibrant colours throughout a space.  A coloured dado or picture rail will stand out and make the feature a focal point rather than something that slips into the background. Traditionally, the mouldings have always been finished in a white paint. However, if you are wanting to stay away from that traditional look then adding a touch of colour is the easiest way to make your decorative mouldings feel a little more modern.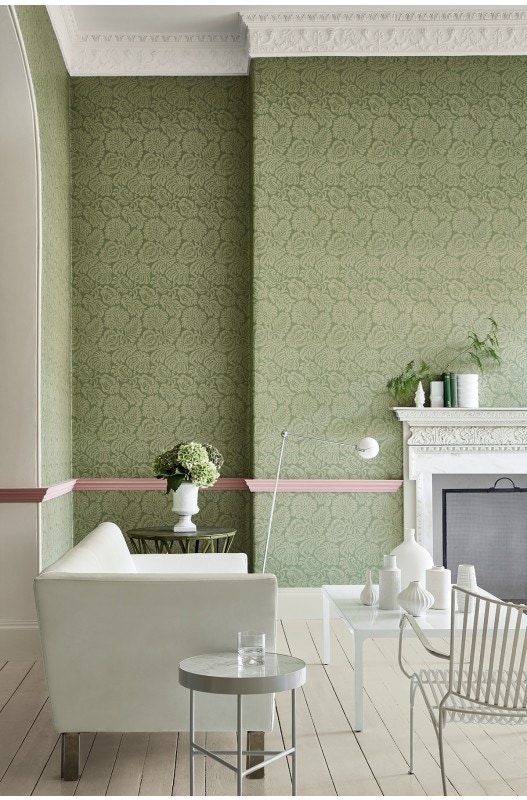 By painting your decorative mouldings you can subtly introduce another colour scheme that compliments your main colour palette. Little Greene Paint Company showcase beautifully how you can work bold wallpaper with a coloured dado rail. The use of the pink is a standout feature from the rest of the room's décor, yet it still works. This is perfect if you are looking for ways to modernise a more traditional style property without ripping out the original features.
Create an atmospheric space
Perhaps, you want to create a contemporary space that is both atmospheric and dramatic. This style is becoming increasingly popular within larger properties as people have the space to create rooms that feel moody. This style is a far cry away from the minimalist style often associated with modern interiors. If you do want to stay away from natural colours like whites and beige then an atmospheric colour scheme is definitely the right choice for you.  
You can achieve this look by painting interiors with a dark tone that is bold and earthy. The darker the better, don't be afraid to be brave with your colour choice as larger properties can take the colour well. You can make the space feel more atmospheric by taking your chosen colour scheme from wall to decorative features. By painting dado rails, picture rails and skirting boards all in the same colour you will make a stand out space that is striking and stylish. This is a modern interior trend that makes a space feel more cohesive and sometimes even cosier.  
By adopting this technique you will make the dado and picture rails more of a subtle feature and the statement will instead come from the chosen colour scheme. This design trick gives you the flexibility to create the look you want without being tied to the mouldings that already come with your property.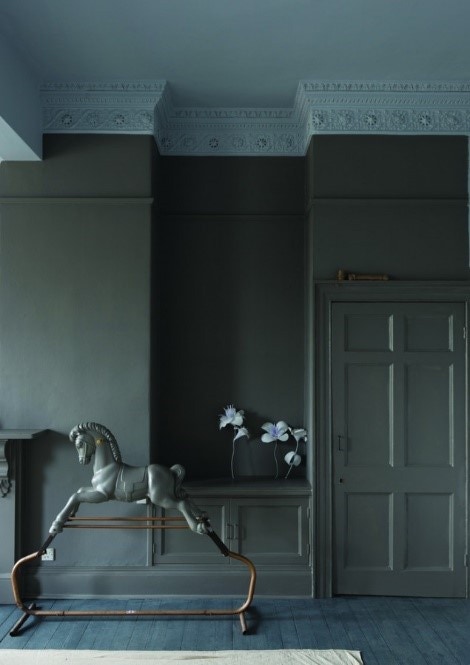 Think outside of the box
If you are the type of decorator that likes to be creative with their interior design, then you might be eager to learn about the unconventional ways you can introduce decorative mouldings into your home. Think outside of the box and discover different ways in which you can make our decorative mouldings work within your home. We are often inspired by the different ways interior enthusiasts work with different decorative mouldings.
Bianca Hall the writer behind the French For Pineapple blog used our dado rails in an innovative way that was both stylish and trendy. Bianca chose to use our dado rails to frame wallpaper and in fact styled them vertically rather than the traditional horizontal placement. This is such an innovative way of how you can break away from the traditional styling of dado and picture rails.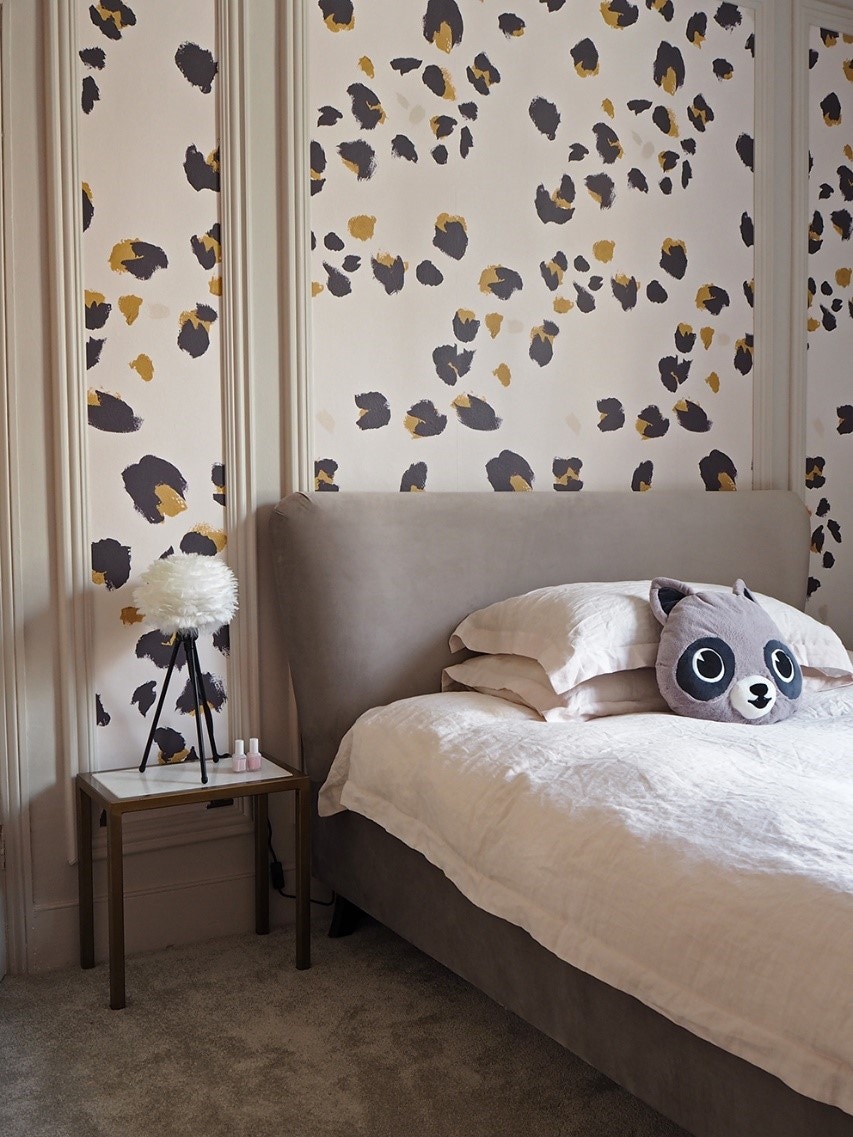 Image Credit: French For Pineapple 
 Another creative hack we spotted was in fact on Pinterest, where someone had used dado rails as a shoe rack to store their heels.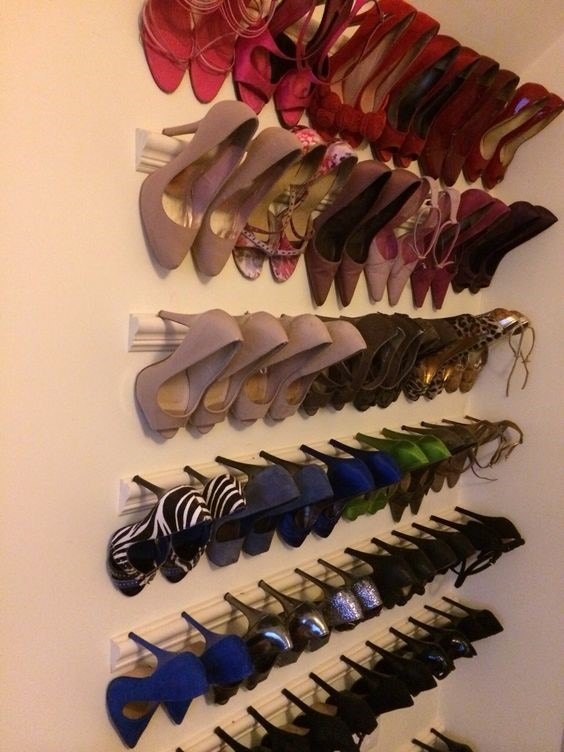 By using dado and picture railes solely for a purpose of a creative project rather than functionality you can create a space that is unique to you. Ideal for those that like to have something a little different within their home and use their creativity to create a meaningful interior that will get visitors talking!
Those are just a few ways in which you can make dado and picture rails work if your style is suited to something a little more modern and less traditional. As well as the design techniques highlighted throughout this guide, we also have a wide range of dado rails for you to choose from for your property. From detailed to simplistic, you are bound to find something suited to your taste. If you did want to explore coloured dado rails a little further, here at Skirting 4 u we can help! We can finish the dado rails in a RAL colour of your choice or match a Farrow & Ball colour reference. However you choose to style your decorative mouldings we are certain they will look both stylish and attractive.
If you do need any further assistance or wanted to explore coloured decorative mouldings further please do not hesitate to contact on our friendly sales team today who will be more than happy to help. Call the office on 01922 451 689 or email [email protected] to speak to someone today.