Can you re-use skirting
10557

Views
Posted on:
04/16/2019
Skirting board and architrave can be reused if it is in good condition and doesn't get damaged when it is removed from the walls. We have put together a helpful guide on how to remove skirting boards and a video tutorial if you needed a little help on how best to do this.  
Why re-use skirting boards?
There are two main scenarios in which you may want to consider reusing your skirting board and architrave. Firstly, to keep the costs of a renovation or redecorating project down, you might look at reusing skirting to avoid having to purchase new ones. Secondly, you might be looking to preserve original features of the property, or even recycling skirting and architrave from another property to make use of certain design features.
If you are reusing or upcycling skirting board from a different room or property, it is worth spending some additional time before installing the boards to properly plan how you will be cutting the pieces to make the best use of the material. Consider where the best places will be to make any joins between 2 pieces of skirting board if the lengths you are using are not long enough to cover the whole length of your room in one piece. Often, it is a good idea to plan to place joins in places you already know will be covered by the furniture in the room for the best aesthetic look and feel.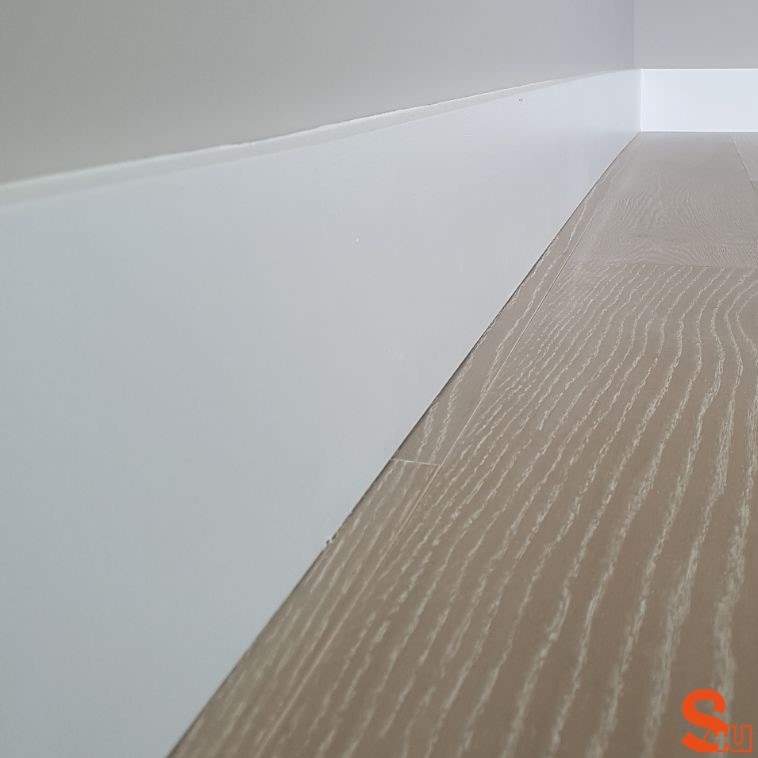 Customer photo featuring Square skirting board
You will also want to take the necessary steps to ensure your skirting board is in the best possible condition before you reuse it. Look out for bumps and scrapes that may need to be filled before repainting. It is also a good idea to assess whether it would be a good idea to sand off the existing paint al the way back to the raw material- be that wood or MDF. As time goes by, more and more layers of paint tend to be added to skirting boards and architrave as people redecorate or spruce up their homes without replacing the moulding. In scenarios such as this, the paint on the skirting can be so thick that some of the detail in the profile can be lost. To make the best of the reused skirting, spend some time sanding the paint back to restore the profile to its original glory!
Fitting Skirting Boards
In addition to making sure that the visible face of the skirting board is in good condition, you will want to ensure that the reverse side of the skirting board has been properly prepared so that when you reinstall them you don't experience unwanted difficulties. For the best results, make sure any nails that previously held the skirting boards in position have been removed, and any adhesive that may have dried and stuck to the back of the boards has also been cleared so that the skirting boards will sit flush against the walls when you reinstall them.
If you need any further help with anything related to your skirting board or architrave, please don't hesitate to contact us and we will do our best to assist you!
About the Author
Kieron Miller is the Managing Director of Skirting 4 U and has been working in the skirting board and online retail industry since 2012. Kieron has been using his extensive product knowledge and problem-solving experience to help both trade and private consumers all over the country find the perfect skirting board products for their projects. He continues to innovate new solutions and product ideas as the market continues to grow.