Choosing The Right Skirting Board Height
41481

Views
Posted on:
10/09/2019
When it comes to shopping for skirting boards there are so many different elements to consider. Here at Skirting 4 U we want to ensure that all of our customers are free to have the skirting board design and style they want in their home without compromise. We therefore offer customisable options on our skirting board styles for you to choose your required height, depth, overall length and finish. If you are someone that is new to the world of skirting boards such a wide choice of options might be somewhat daunting!
A question we get asked time and time again is what height we recommend, or what is standard. When it comes to decisions like this, we do always want to encourage that it really is down to personal choice and the aesthetic you want to go for within your home. However, if you do need a little help along the way we have highlighted a few different elements for you to think about to hopefully help aid your decision process.
Consider The Age Of The Property
The age of the property you are renovating, or decorating can play a big part in helping you decide on what height to go for. This is all because of the size of the property and ceiling height. For example, in older more period style properties like Georgian, Edwardian or even Victorian homes you will find that the rooms are a lot grander with taller, hard to reach ceilings. This therefore means you have a lot more wall space to work with, so generally those with taller ceilings would opt for a larger skirting board style. It's all about getting the proportions right!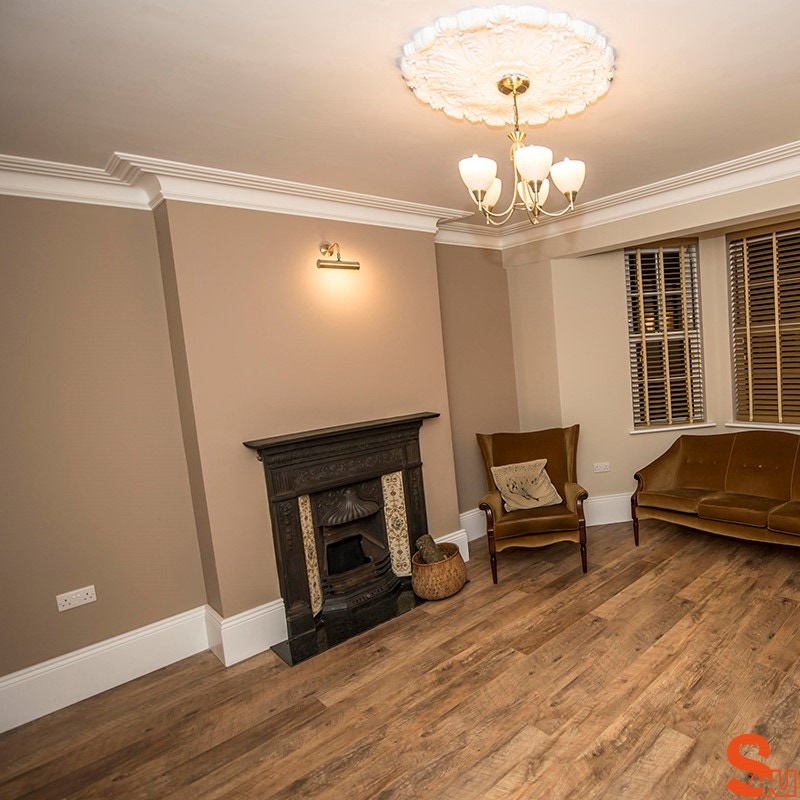 This isn't to say that if you don't live in one of those homes mentioned that you can't opt for something taller. Although, it is important to note that if you are perhaps decorating a modern or new build property then they will generally have lower ceilings. If this is the case then you really need to work out the space you have to work with and how high you can go, without it feeling like the room is closing in on you.
Standard Skirting Board Height
When it comes to determining the standard height of a skirting board, this is based off industry standards and what customers like yourself are opting for. Generally speaking, the standard skirting board height is around 145mm, which is about 6 inches. This size is a mid range height of the ones we offer, as we offer heights from 70mm to 350mm.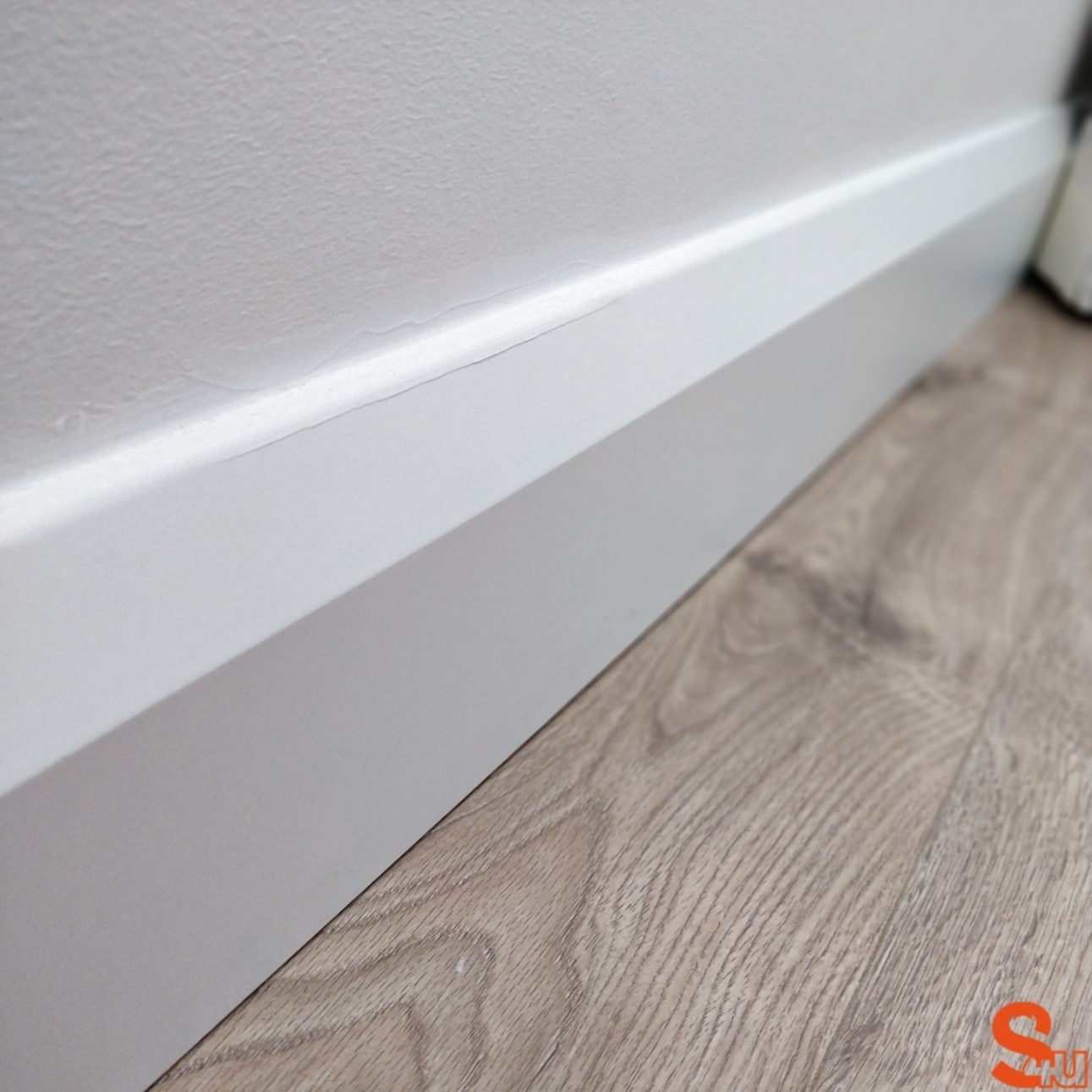 As mentioned already it is all down to overall look you want to create. Generally speaking, for those that want something simplistic, discreet and small you would opt for the lower end of those height options. A tip to take into account when choosing the right height is to consider the profile size. All of our profile sizes may differ slightly as some are more detailed than others.
For example, the Chamfer Skirting Board Profile has a height of 37mm, meaning the detailed section will always be that size regardless of the overall height you choose as the profile size never changes. Therefore, if you were to opt for something really small say 70mm there will be a 33mm flat piece to make up the overall height. It's important to consider how much of a flat piece you want on your board and what would look best within your home.
If you are considering a taller style and want something to stand out, you should start to look at heights of around 220mm (9 inches) and above. With the overall height going up to 350mm you are free to be as bold as you wish with your skirting board design!
Exclusive Tall Skirting Board Designs
If you are now considering a tall skirting board and wanting something to stand out you might find a style from our Tall Skirting Board range the best fit. These designs are great, as they have been made exclusively for those of you that want to achieve a grand style. With our tall skirting you also get a larger profiled section than what you would get on a standard skirting board design. For example, the Large Victorian Skirting Board has a profile height of 96mm which is far greater than the standard Victorian style, which has a height of 51.5mm.
This will work well if you are wanting something that will stand out but aren't a fan of a really large flat piece. Our tall skirting boards start from heights of 170mm and again go up to 350mm.
Interior Design Theme
A final consideration you might want to take into account when choosing the height of your skirting board is the overall interior design theme in your space. In some interior styles skirting boards can play a big part in the overall design and plan of the room, whereas in others they are extremely subtle.
Let's take Minimalist interior design for example. This interior design trend is all about simplicity, straight lines and keeping everything paired back. Therefore, if you are planning to adopt this style throughout your home, it might be worth keeping the skirting boards simple and subtle. Generally, in minimalist interior design you can expect the heights of the skirting boards to be really small and as discrete as possible.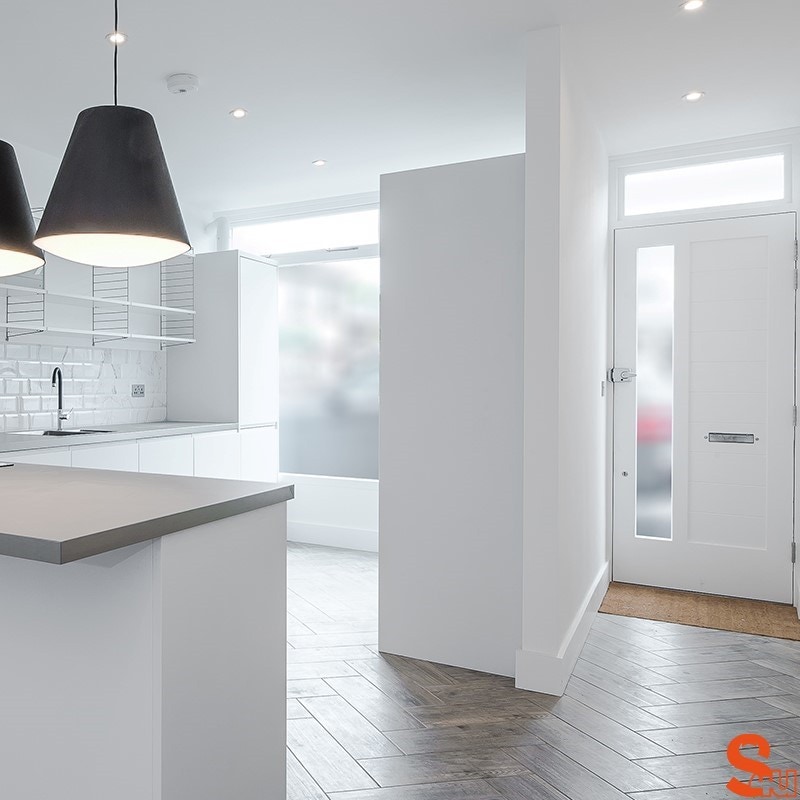 On the other hand, some interior trends really do like to incorporate skirting boards and work them into the overall room design. Therefore, you will no doubt want your skirting boards to be at a height that stand out and don't become forgotten. In Maximalist interior design it is all about the colour, boldness and the statement you can make in a room. Therefore, you will very often find skirting boards painted in a bold colour scheme to match the grandness of the overall room. If you are planning on painting your skirting boards, the overall height will help determine how much colour to inject into your space.
Overall, there are many different factors to consider when choosing not only the right height but the perfect skirting board for your home. If you think about all of what we have mentioned above there's no doubt that you will be able to find the right height for your property.
If you are still unsure of what size to go for, then do take advantage of our custom sample option online. This is a great way of seeing first hand if something will work in your home before committing to a big order. You can choose the profile, depth, height, optional rebate and finish, which will no doubt help aid your decision process if you are still a little unsure. You can then redeem the money spent on the custom sample as a voucher code when placing an order with us for your actual skirting boards or architrave, all you need to do is call one of our lovely sales team who will be more than happy to help!
Browse our wide range of MDF skirting boards online and discover all of the options available to you when shopping with Skirting 4 u.
If you do need any help or want to discuss any of what we have mentioned above in further detail please do not hesitate to contact one of our team on 01922 451 689 or drop us an email at [email protected].